Playground going in near ball fields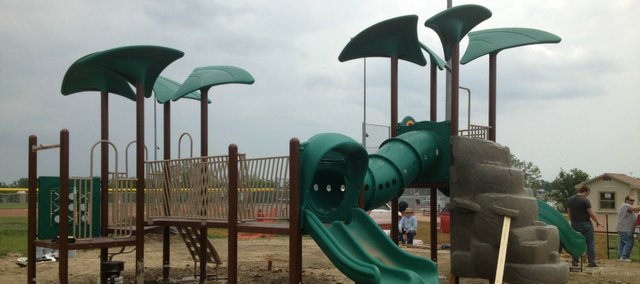 Beginning next month, youths visiting Tonganoxie Recreation Commission ball fields will have a new kind of entertainment available.
Installation of of a new, $50,000 playground has begun between the softball and baseball fields on the north edge of the Leavenworth County Fairgrounds.
Brad Eccles, assistant director at the Tonganoxie Recreation Commission, said the addition of playground equipment has been on the TRC's to-do list since the northernmost fields were added to the complex four years ago.
"Down at the older fields, there's not a lot of space for kids to run, so we wanted something up here for the little kids who are watching their big brothers and big sisters," Eccles said. "We wanted something for them to do instead of sitting on the bleachers, so it's a nice little oasis for them."
The TRC, which has a 10-year purchase agreement with the city for the land at the fairgrounds, purchased the playground equipment from GameTime, a national manufacturer of playground and fitness equipment. The company was offering a 50-50 grant at the time of purchase, so the TRC is responsible for $25,000 of costs.
Eccles said a sidewalk also would be added from the north concessions shed to the playground and the entire playground area will be covered with mulch. The sidewalk and mulch are not figured into the cost of the equipment.
All told, the playground area will cover more than 3,600 square feet.
Knights of Columbus members at Sacred Heart Catholic Church in Tonganoxie have volunteered to install the equipment. Russ Kimberlin, former TRC maintenance supervisor, is a member of the organization.
"Whenever we have a project, (Kimberlin) volunteers," Eccles said. "The Knights were looking for a project, so they volunteered to do this. They've done a tremendous job. They've got lots of guys with construction backgrounds, so they've made it look pretty easy."
The playground will have two five-foot and two three-foot slides, three kinds of climbing walls, two bridges and baseball-themed tic-tac-toe panels. The equipment is primarily green and brown to match the fairgrounds' natural surroundings.
"We didn't want something bright blue and red with a bunch of knobs and gadgets," Eccles said. "We're out in the country, so it kind of helps it blend in so it doesn't stick out like a sore thumb out here."
Eccles said the project is to be completed in about two weeks, it's hoped. Installation was supposed to begin earlier this year, but was postponed because of inclement weather.