Saathoff to continue soccer career at
MCC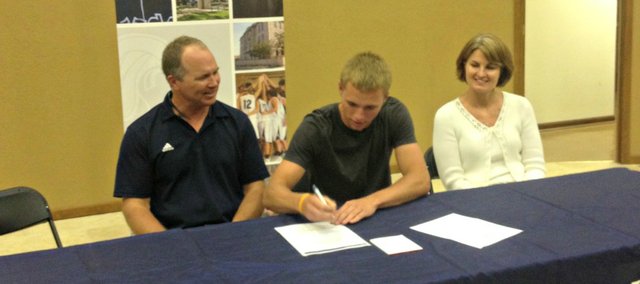 Throughout his Tonganoxie High soccer career, Matt Saathoff never had trouble finding the net.
A four-year starter at forward, Saathoff was the Chieftains' leading goal scorer in each of his four seasons. Earlier this week, he made sure he'd have a chance to continue that success at the college level.
Saathoff signed a national letter of intent to play for Manhattan Christian College on Tuesday at Tonganoxie Christian Church.
"I can't go wrong with the decision I made, both in athletics and spiritually," said Saathoff, who also considered attending College of the Ozarks and Pittsburg State University.
Goals came early and often for Saathoff, but he reached new heights in his final high school season, setting program records with 31 goals and 18 assists. Eight of those goals came in postseason play as the Chieftains reached their first state title game in school history.
Saathoff was at his best when it mattered most, scoring three times in the state semifinals against a McPherson team that had allowed just seven scores all season. He also scored the team's lone goal against Topeka-Hayden in the state championship game.
Following the season, Saathoff earned first-team selections on the All-Kaw Valley League, All-Region and All-State teams.
"When it was on for him, it was a beautiful thing," coach Brian Kroll said. "I think he had one real year where he believed it, and look at the results. We wouldn't have had the success we had without Saathoff."
Saathoff's abilities were evident in his senior season, but Kroll recalls an instance three years earlier in which he realized the future Crusader's potential. Kroll called on Saathoff — a freshman at the time — to take a free kick just inside the midfield line in a game at Mill Valley. Saathoff drilled the ball nearly 60 yards into the top corner of the net.
He was called on in several similar situations throughout his career, and more often than not, he delivered.
"Every time in his career, he had that (goal) as a focal point to look back on," Kroll said. "I've always known how good he was capable of being. I still don't believe that he has really scratched the surface."
Familiar faces won't be hard to find in the MCC program, as Saathoff joins fellow graduate and All-Stater Keaton Truesdell as a Crusader signee. Additionally, 2012 grad Matt Briggs was a freshman on last year's team.
MCC went 19-6 last season under coach Rick Wright and finished third at the National Christian College Athletic Association national tournament.
"I just want to give it my all," Saathoff said. "(MCC) has a lot of the same players from last year returning, so I don't expect to be a starter, but I want to push my teammates next year to make them better."