Chambers, Bristol represent schools at state cross country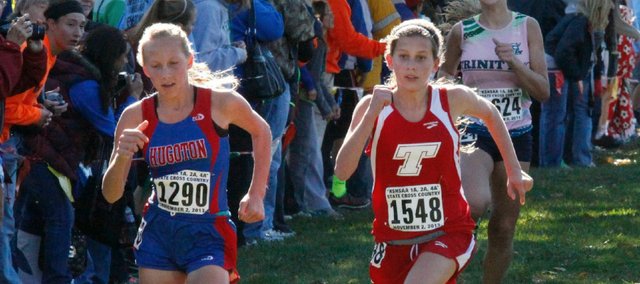 Wamego — As far as Emily Chambers was concerned, state cross country was just another meet.
Chambers, a Tonganoxie High freshman and the only Chieftain to qualify for the 2013 state meet, represented her town and school Saturday at the Class 4A meet at Wamego Country Club. She placed 54th with a time of 17:17.34.
Although she ran a race without her teammates for the first time this season, she was hardly on her own throughout the day. Several Chieftain runners, including 2012 state qualifier Sophia Wetta, made the trip to Wamego, giving Chambers company and reassurance during her pre- and post-race routines.
"I wasn't really nervous," Chambers said. "(Having my teammates there) made it feel like more of a normal meet instead of just me running by myself."
Chambers helped THS achieve plenty of success this fall, including six top-three finishes, three team titles and its highest-ever finish at the Rim Rock Farm Invitational (fourth). With all seven varsity runners back next fall, she hopes the Chieftains can make the state trip as a team in 2014 — a feat they haven't accomplished since 2006.
"I'm really happy with the way things went and how it went for me as a freshman," she said. "I thought it set a good example of what I want to happen next year and all the years to come in my high school career.
"It makes me really want to make it next year, but I don't want to make it by myself. I think that motivates (the team) because I don't think they want to just send one person next year."
Chambers wasn't the only local runner on hand, as McLouth junior Ryan Bristol represented the Bulldogs in the 2A boys race. Bristol, the team's leading runner throughout the season, finished 72nd with a time of 20:14.33.
The race marked the end of a long drought for McLouth, which hasn't had a state runner since Scott Smeser made the cut in the 3A race in 2004. The Bulldog girls also qualified in the team ranks that season, but haven't sent anyone to state since.
"I'm super happy to come out and support the school," Bristol said. "It was a really big opportunity, so I'm really happy. It's been a great season."
Bristol was the Bulldogs' individual leader in every meet this season and helped the team win the Troy Invitational on Sept. 26 — its first team title in nine years.