Tonganoxie couple competes in charity boxing event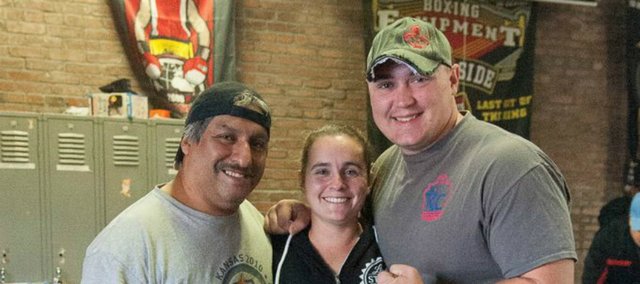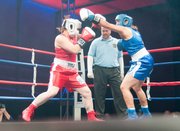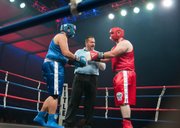 A Tonganoxie couple stepped into the boxing ring over the weekend, and they did so for a good cause.
Chris and Stella Ridihalgh, both graduates of Tonganoxie High, competed in the annual Kansas City Guns 'N Hoses charity boxing tournament Saturday at the Kansas City Convention Center in Kansas City, Mo. The event, which started in 2005, pits members of area fire departments against members of area police departments in a 16-match boxing tournament.
All proceeds from the event benefit the Surviving Spouse and Family Endowment (SAFE) Fund.
"This was our first year," said Chris, a 2006 THS grad and Tonganoxie firefighter. "Basically, through the fire department here in town, I was talking with a few of the gentlemen that are full-time in KCK, and they kind of pointed me in the right direction."
After finding a sponsor — S&S Alloy in Tonganoxie — Chris began training with Greg Conchola of the Kansas City Police Athletic League — one of the tournament's three approved training facilities. Stella, a 2005 THS alum, accompanied her husband to training sessions, which ultimately led to her participation in the event.
"I had her tag along for my training downtown, and she was kind of mimicking the moves in the background," Chris said. "The coach had her start training the next day, then he asked her if she wanted to join the boxing match and got her on the roster."
Stella got sponsorships from her employer, Eudora Animal Hospital, as well as Oklahoma Joe's Bar-B-Que.
All the training led up to Saturday's event. Chris competed against John Timmermeyer of the Kansas City (Mo.) Police Department and Stella took on Leena Ramana of the Federal Bureau of Investigation. Chris and Stella both went all three rounds in their respective matches, but weren't able to come out with wins.
"It just came down to a judge's decision," Chris said. "We were a little bit saddened and down that we lost, but all in all, we had a great experience. It's not really win or lose for either side. Really, it's just for the good cause and the SAFE program. That's what everybody is there for."
The firefighters won more overall matches to take the team title. Their last documented win against the police came in 2009. The police won last year's tournament, the 2011 event was canceled and a winner in 2010 is unknown. Chris said he and Stella plan to compete again next year.
SAFE, which was formed in October of 2003, is overseen by a board of volunteers. Its intent is to provide emotional and financial support to families in the Kansas City metro area who have lost police officers, firefighters or emergency services personnel in the line of duty. The program currently serves families in four Missouri counties and five Kansas counties.