Tonganoxie routs Ward in playoff opener
Chieftains will host Baldwin on Saturday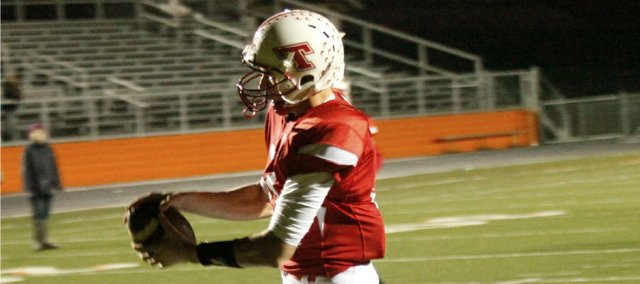 Bonner Springs — A torn-up field and adverse weather caused Tonganoxie High to move its playoff opener away from Beatty Field, but the Chieftains looked right at home Tuesday night at David Jaynes Stadium.
THS scored on six straight offensive possessions in the first half and the defense forced four turnovers in a 52-6 rout of Bishop Ward in the bi-district round of the Class 4A playoffs. The Chieftains (9-1) limited the Cyclones (2-8) to just 78 yards of offense — 30 of which came on the final play — to win their second straight bi-district title. The win sets up a regional showdown with Baldwin (10-0) on Saturday at THS.
Ward got on the scoreboard first when Bryan Barnhart recovered a fumble by Cole Holloway and returned it 73 yards for a touchdown, but that was the Cyclones' only highlight of the night. THS answered with a six-yard touchdown run by quarterback Tyler Ford, then Shane Levy broke off a 34-yard scoring run and Ford hit Ben Johnson on a 27-yard touchdown pass to make it 21-6 at the end of the opening period.
"(Barnhart's touchdown) just made everybody mad, more or less," coach Al Troyer said. "We responded well from there and then just kept going."
A bad snap on a Cyclone punt attempt gave the Chieftains the ball in the red zone early in the second quarter, and quarterback Tyler Ford hooked up with Johnson on a 13-yard scoring strike two plays later. Johnson made some more noise on Ward's ensuing possession when he picked off Barnhart and went 55 yards to make it 34-6. It was the Chieftains' first defensive touchdown of the year.
"The guy was playing man coverage and Tyler made some great passes," said Johnson, who leads the team with six touchdown catches. "I dropped a couple interceptions, so I should have had more."
James Grizzle recovered a Barnhart fumble on Ward's next drive, Levy and Jared Sommers added touchdown runs before the break to give THS a 46-6 halftime lead. The Cyclones went into the locker room with just 29 total yards.
Sommers scored the game's final points on a 10-yard run midway through the third quarter, and a running clock went into effect.
As a team, the Chieftains amassed 318 yards on the ground. Levy and Holloway led the way with 129 and 93 yards, respectively. Ford was 4-of-8 passing for 61 yards. He went over the 1,000-mark for the season. He has now thrown for 1,002 yards and 16 touchdowns, compared to just three interceptions.
The defense enjoyed its most dominant performance of the season. The Cyclones completed just two of 12 pass attempts for two yards. Barnhart put up 56 yards on the ground, but 30 came on a broken play as the clock hit zero.
"That's what we have to have in the game we're going into next with Baldwin," Troyer said. "We have to have great defense to be able to shut them down."
Luke Carey led the way with 10 total tackles and Cody Snyder recorded his first sack of the season.
Baldwin advanced to the regional round with a 19-0 win Tuesday against St. James Academy. Saturday's matchup is set for 7 p.m. at Beatty Field. The winner will face either Coffeyville-Field Kindley (9-1) or Chanute (8-2) in the sectional round.
"We're going to have to fight," Troyer said. "It's going to be a great atmosphere. It will be a great crowd, and (Baldwin) will travel well on Saturday night."
Score by quarters
BWHS 6 0 0 0 — 6
THS 21 25 6 0 — 52
First quarter
BWHS — Bryan Barnhart 73 fumble return (kick failed), 9:14
THS — Tyler Ford 6 run (Eric Tate kick), 6:51
THS — Shane Levy 34 run (Tate kick), 3:49
THS — Ben Johnson 27 pass from Ford (Tate kick), :25
Second quarter
THS — Johnson 13 pass from Ford (Tate kick), 9:27
THS — Johnson 55 interception return (kick failed), 8:11
THS — Levy 26 run (kick failed), 6:59
THS — Jared Sommers 3 run (kick failed), 1:43
Third quarter
THS — Sommers 10 run (kick failed), 5:48
Rushing
BWHS: Bryan Barnhart 20-56, Cole Henley 6-18, Angelo Sanchez 4-2; THS: Shane Levy 13-129, Cole Holloway 13-93, Tyler Ford 5-49, Jared Sommers 5-36, Kyle Fain 6-15, Carl Hecht 1-(-4).
Passing
BWHS: Barnhart 1-9-1 3, Jordan Mitchell 1-3-0 (-1); THS: Ford 4-8-0 61.
Receiving
BWHS: Henley 1-3, Xavier Tucker 1-(-1); THS: Ben Johnson 2-40, Levy 2-21.