Breaking ground in Tonganoxie
Construction on second phase of Chieftain Trail begins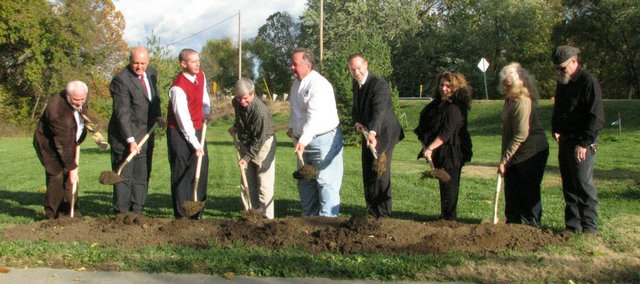 Another construction project has started in Tonganoxie, one that connects the north side of U.S. Highway 24-40 to the south.
City officials had a groundbreaking Friday near Magnatech Park. That's the area where the existing Chieftain Trail will connect with the next phase, a 1.3-mile trail that, when finished, will double the current trail, which is 1.2 miles.
"This is a great day to improve the quality of life in Tonganoxie," said Nathan McCommon, Tonganoxie city administrator, at Friday's ceremony.
The trail will travel northeast along County Road 5, or Tonganoxie Road, and then go south on Laming Road to Woodfield Drive.There will be pedestrian walk striping at Laming Road and Woodfield Drive, as well as County Road 5 and the frontage road near the U.S. 24-40 overpass. The trail will run along the east side of Tonganoxie Road north of the overpass. To the south of the overpass, the trail will run along the west side of the road. There also will be a walking bridge that will cover Tonganoxie Creek near Magnatech Park.
Tonganoxie Mayor Jason Ward said the trail would be an impressive addition to Tonganoxie.
"This is an incredible asset to our community," Ward said. "We've been looking forward to this day for four years now."
That's been the amount of time it's taken to plan for Chieftain Trail Phase II.
A Kansas Department of Transportation grant known as a transportation enhancement grant will pay for 80 percent of construction.
King's Construction, Oskaloosa, is constructing the trail.
Construction and engineering costs total more than $1.1 million. KDOT will cover $974,000, with the city responsible for $234,500.
Work on the trail is starting this week. McCommon said during Monday's City Council meeting.