Turnovers cost McLouth in playoff opener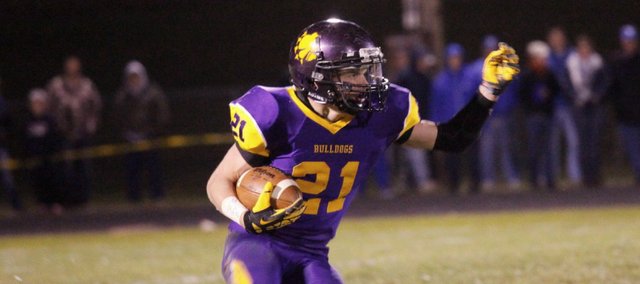 McLouth — Home field advantage wasn't enough to push McLouth High by Troy in its playoff opener, as the Bulldogs dropped a 26-14 decision to the Trojans on Friday at Stan Braksick Sports Complex.
Visiting THS (7-3) outgained McLouth (7-3) by just nine yards, but three turnovers by the Bulldogs — two deep in their own territory — proved to be the difference-maker in the battle of former Delaware Valley League foes.
The Bulldogs forced a three-and-out on the opening possession and, thanks to receptions of 14 and 28 yards by Nick McAferty, got into the red zone on the ensuing drive. However, the Trojans stopped the drive at their own 17. They answered with an 83-yard drive, capped off by a three-yard touchdown run by quarterback Tristan Speer with 2:11 left in the first quarter.
MHS gave the ball back on the ensuing possession when quarterback Jack Courtney fumbled at the McLouth 27-yard line, and Troy scored again on another run by Speer on the first play of the second quarter. Speer then hit Collin Jasper for the conversion to make it 14-0, and neither team scored again before halftime.
Both teams punted on their first possession of the second half, and McLouth got a chance to cut into the deficit when it drove into Trojan territory midway through the third quarter. However, the scoring threat ended when Alex Schmille intercepted Courtney at the 22.
The Bulldog defense forced a punt, but Courtney was intercepted again — this time by Cuttar Huss at the MHS 21 — and Derek Franken scored from 15 yards out two plays later.
The Bulldogs got on the scoreboard early in the fourth quarter when Drew Cerny broke free down the left side of the field for a 31-yard touchdown run, but Speer answered with his third touchdown of the night on a 15-yard run up the middle. Nick McAferty returned the ensuing kickoff to the Troy 34 and hauled in a touchdown pass from Courtney on the next play to make it a two-score game again with 4:21 remaining.
That's as close as the Bulldogs got, though, as they couldn't recover an onside kick and never got the ball back.
Cerny led all ball carriers with 148 yards on 20 carries, and McAferty had four catches for 86 yards — both game-highs. Franken paced the Trojans with 83 yards on 19 attempts, while Speer added 74 and threw for 75 more.
The loss marks the end of the season for McLouth, which won its second straight district title in 2013. After going a combined 10-35 from 2006 to 2010, the Bulldogs are 23-7 over the last three seasons.
Troy advances to the sectional round, where it will host Lyndon (10-0) on Friday.
Score by quarters
THS 6 8 6 6 — 26
MHS 0 0 0 14 — 14
First quarter
THS — Tristan Speer 3 run (pass failed), 2:11
Second quarter
THS — Speer 2 run (Collin Jasper pass from Speer), 11:56
Third quarter
THS — Derek Franken 15 run (pass failed), 1:39
Fourth quarter
MHS — Drew Cerny 31 run (run failed), 9:08
THS — Speer 15 run (pass failed), 4:40
MHS — Nick McAferty 34 pass from Jack Courtney (Courtney run), 4:21
Rushing
THS: Derek Franken 19-83, Tristan Speer 23-74, Colton Masters 5-27, Alex Schmille 2-17, Jake Ross 1-2; MHS: Drew Cerny 20-148, Jack Courtney 5-23, Remington Courter 1-6, Nick McAferty 5-1.
Passing
THS: Speer 6-11-0 75; MHS: Courtney 6-18-2 91.
Receiving
THS: Collin Jasper 2-49, Ross 3-15, Caleb Winkel 1-11; THS: McAferty 4-86, Cerny 2-5.