Tonganoxie falls to Baldwin in regional playoff bout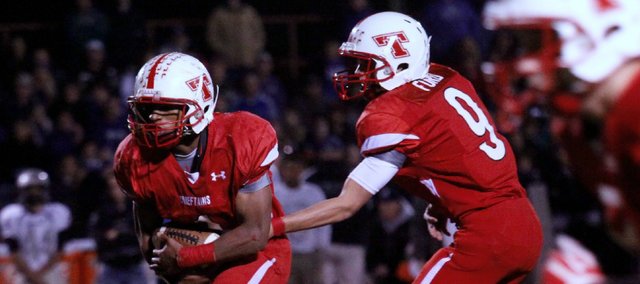 Tonganoxie High got the start it wanted in Saturday's Class 4A regional playoff clash with Baldwin. However, the Bulldogs' big offensive line and deep rushing attack took their toll on the Chieftain defense down the stretch.
THS trailed by just four points early in the fourth quarter, but couldn't find an answer for two late touchdowns in a 28-10 loss at Beatty Field.
"Our kids gave a great effort. We fought 14-10 through three quarters," coach Al Troyer said. "It was a hard-fought game and we knew it would be on both sides of the ball. We gave them everything they wanted. They're a great football team and they'll probably go all the way."
The Bulldogs (11-0), picked by many to reach the state tittle game on Nov. 30, amassed 331 yards of offense — 288 on the ground — and limited the Chieftains (9-2) to 166 to keep their perfect season alive. THS entered the game averaging nearly 300 rushing yards per contest, but managed just 48 on 24 carries against the BHS defense.
Troyer's squad opened scoring on its first possession when quarterback Tyler Ford hooked up with Ben Johnson for a 30-yard touchdown pass, then Jared Sommers intercepted Baldwin quarterback Chad Berg in BHS territory on the ensuing possession, giving THS the chance to take a two-score lead. The Chieftains couldn't capitalize on the short field, though, and BHS evened the score on a 47-yard run by Joel Katzer late in the opening period.
"It was great to get down there and score, but then to get down there and not score the second time, that was a little disappointing," Troyer said.
The Bulldogs went in front on a 10-yard score by Jake Katzer midway through the second quarter, but THS cut the deficit to four on a 22-yard field goal by Eric Tate on its next drive.
Baldwin got a chance to pad its lead just before the break when quarterback Chad Berg found Tim Craig for a 28-yard pass down the sideline, moving the ball deep into Chieftain territory. A pass interference call gave the Bulldogs a first-and-goal situation, but the THS defense stiffened and forced a fourth-down stop at the seven with less than a minute remaining. The Chieftains opened the second half with an onside kick, but the Bulldogs recovered the ball at the 50.
"That was big because we knew they were going to get the ball," Troyer said of the defensive stop just before halftime. "We tried to get a quick one on them, but they did a great job with their special teams and stayed at home."
BHS drove into the red zone on its first second-half drive, but once again came up empty when Matt Michels missed a 30-yard field goal attempt.
The THS defense came up big again on Baldwin's next drive when it forced a fumble by Joel Katzer. Cole Holloway covered up the loose ball at the BHS 45, but the offense wasn't able to get anything going on the ensuing drive. Following a punt, the Bulldogs drove 84 yards and made it a two-possession game on a 10-yard run by Jake Katzer with 10:11 remaining in the fourth quarter.
THS turned the ball over on downs on its next drive and, after running several minutes off the clock, Baldwin put the game on ice with a three-yard score by Cornell Brown with just 2:04 left.
"Up front, they just pounded the ball. All of their backs did a great job of running after contact," Troyer said. "We'd hit them at the line and they'd run through it for four or five yards, or they'd break through it and score."
Brown led the BHS ground game with 126 yards and Joel Katzer added 96. As a team, the Bulldogs averaged better than five yards on 56 carries.
Ford threw for 118 yards in the loss, bringing his season total to 1,120. He finished his senior season with 17 touchdown passes and just three interceptions. Holloway ran for 42 yards, giving him 1,353 on the year — his second consecutive 1,000-yard season.
THS reached nine wins for the first time since the 2005 Chieftains went 9-2. The regional playoff appearance was the team's second in as many years, as it wrapped up a 14-8 run in Troyer's first two seasons.
"These kids came out and fought," Troyer said. "Twenty-some seniors came out and fought for 11 games, and they fought to the end. Even when (Baldwin) was up three scores, they never gave up."
Score by quarters
BHS 7 7 0 14 — 28
THS 7 3 0 0 — 10
First quarter
THS — Ben Johnson 30 pass from Tyler Ford (Eric Tate kick), 9:10
BHS — Joel Katzer 47 run (Matt Michels kick), 3:42
Second quarter
BHS — Jake Katzer 10 run (Michels kick), 7:56
THS — Tate 22 field goal, 4:22
Fourth quarter
BHS — Jake Katzer 10 run (Michels kick), 10:11
BHS — Cornell Brown 3 run (Michels kick), 2:04
Rushing
BHS: Cornell Brown 20-126, Joel Katzer 19-96, Jake Katzer 13-55, Tim Craig 2-13, Chad Berg 2-(-2); THS: Cole Holloway 18-42, Tyler Ford 3-10, Jared Sommers 1-2, Maleak Gibson 2-(-6).
Passing
BHS: Berg 2-4-1 43; THS: Ford 8-18-0 118.
Receiving
BHS: Craig 1-28, Brown 1-15; THS: Gibson 4-61, Ben Johnson 2-46, Eric Tate 2-11.