Local vets celebrated at Leavenworth Veteran's Day Parade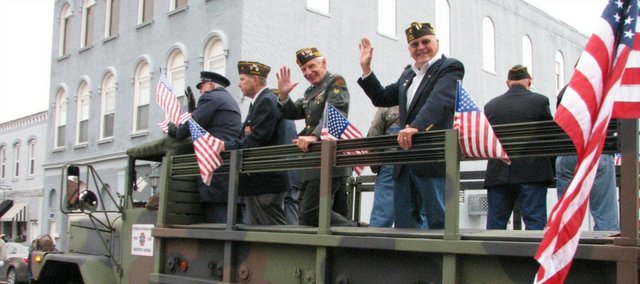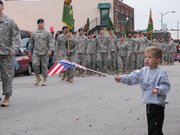 Three-year-old Mason Lake stood a couple paces in front of his family, waving his small American flag left to right, so close to the Veterans Day Parade in Leavenworth that one of the active-duty soldiers marching in front of him could've reached down to pat him on the head.
Lake, of Lansing, was one of hundreds of spectators of all ages expressing their gratitude to veterans, active military members and the families of veterans Monday morning in downtown Leavenworth. The Veterans Day Parade in Leavenworth is said to be the oldest such observation in the nation and the largest Veterans Day parade west of the Mississippi River. The parade lasted longer than two hours Monday as more than 100 groups and floats wound their way through the city.
At the midway point of the parade were several marching groups of soldiers currently stationed at Ft. Leavenworth. One of them, Lt. Col. Karen Hubbard, of Tennessee, said she had never seen a celebration like Monday's.
"I've never marched in a parade like this," Hubbard said. "It was a challenge to keep from tearing up, especially when you can't hear your cadence leader but all you can hear is the heart-felt thank-you's coming from the people."
Hubbard has been stationed at Ft. Leavenworth since July 2012 when she returned from a tour in Iraq. Currently the battalion commander of the Combined Arms Center Special Troops Battalion, Hubbard has served in Korea, Panama, Iraq, Afghanistan, Peru and Honduras.
The parade celebrated every generation of veteran. Vietnam veteran Gordon Robinson of Topeka could be seen holding back tears as a float drove past him playing "God Bless America."
"This is a lot more festive that most parades I've been too," Robinson said. "You can really feel it and it's just great to see all the kids out here."
Local troops of Boy Scouts and Girl Scouts and local VFW and American Legion posts, including those from Tonganoxie, Basehor and Bonner Springs, all paraded down Cherokee Street during the warmest hours of Monday. The first taste of winter drizzle didn't start falling until the end of the parade.
Closing the parade were members of the Ft. Leavenworth Buffalo Soldiers chapter riding high on horseback.
The Grand Marshal for the 94th Leavenworth County Veterans Day Observance was Lt. Gen. Ronnie D. Hawkins Jr. The theme of this year's parade was "Stand for those who stood for you."
Boy Scout Chase Allen, 13, rode on a trailer lined with hay bales and American flags with his Leavenworth troop. He said he had either attended or participated in the parade for the past three years.
"It's a lot of fun to see the community come together to thank (the veterans)," Allen said.
While Allen and others have been able to attend the parade, active-duty military members often have to sacrifice holidays, birthdays and other special events while serving. Maj. Haywood McMillan, 35, is one of them. He has been stationed at Ft. Leavenworth for four months and has served in Afghanistan, Iraq and Jordan. After marching in the parade with his daughter, Trinity, a member of the local Girl Scout troop, he sat with this family and enjoyed one of the first Veterans Days he has been able to spend with them.
"It's good to be here, to be able to do this," McMillan, of North Carolina, said. "Veterans and their families have done so much, sacrificed so much for this county. It's just an honor to be here and be a part of this."