TAKING

STAGE

: Tonganoxie High to perform 'Pippin' starting Thursday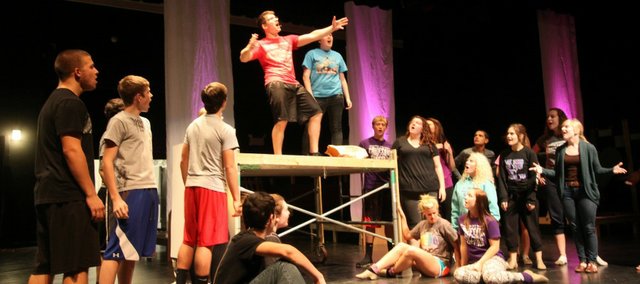 If you go
The musical will start at 7 p.m. Thursday, Friday and Saturday and 2 p.m. Sunday at the Tonganoxie Performing Arts Center. Tickets are $7 for adults and $5 for senior citizens and students.
A Broadway hit is coming to Tonganoxie.
The Tonganoxie High School drama and music departments will present "Pippin" Thursday through Sunday at the Tonganoxie Performing Arts Center on the Tonganoxie High School campus.
The cast will perform 15 songs during the two-act musical, with a 10-minute intermission between acts.
Director Steve Harrell said "Pippin" is a type of show THS hasn't tackled before.
"There are a bunch of different people doing their thing on stage," Harrell said. "It's so different from the regular shows we do."
He also noted that "Pippin" has a much smaller cast. Last year's "Once Upon a Mattress" had 60 students performing. This fall's cast has roughly 35.
Jacob Casselman will play the part of Pippin, while Halston Field will play Berthe and Emma DeMaranville the part of Catherine. Kobe Fagan will perform as Theo, while Nathan Tuter will be Charlemagne. Bonnie Monahan will play the part of Fastrata for three performances. Meagan Behm will take on the role Friday night.
The ensemble is Meagan Behm, Madelyn Lewis, Demi Trimble, Kate Ebbert, Annabelle Frese, Megan Briggs, Levi Koch, Quin Smith, Josh Lingo, Milton Ulreich, Braden Shyrock and Matthew Muntzel.
Acrobats are Megan Zerrer, Allison Thompson, Mat Scharff, Haley Griffin, Kourtni Freemyer and Mitch Brock.
Stage manager is Christian Gruber, while technical crew members are Anihi Puebla, Alyssa Crenshaw, Jolie Hebert and Mara Hebert.
THS graduate Elizabeth Higbee has returned to her alma mater to assist as choreographer for the play.
Joining as vocal director is Tom Gifford.
Harrell said the musical also brings in some THS athletes to the stage. Chieftain Stars dance team members, THS cheer squad members and other student-athletes are part of this year's cast as acrobats.
"Pippin" premiered in 1972 and ran until 1977.
A reboot of the show premiered earlier this year and won a Tony Award for best revival of a musical. The original also won several Tony Awards.
Music and lyrics are by Stephen Schwartz. It's based on the book by Roger O. Hirson.
According to the Broadway show's website, "Pippin" tells the story of a young prince on a death-defying journey to find meaning in his existence.
Harrell said THS will perform music from the updated version.