THS

fall athletes earn All-

KVL

selections
Chieftains combine for 27 recipients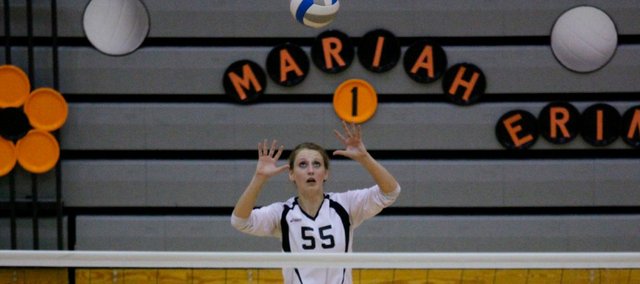 Twenty-seven Tonganoxie High fall athletes were rewarded for their hard work this season when they were named to their respective All-Kaw Valley League teams, including a combined 10 first-team selections.
Following the first nine-win football season since 2005, 12 Chieftains were listed at least once on the all-KVL team, released this week by league officials. Seven players earned first-team nods.
Running back Cole Holloway led the league with 1,353 yards on 213 carries and scored 13 times in his final high school season behind first-team offensive linemen Cody Snyder and Zeke Kissinger. It was his second straight 1,000-yard campaign.
Tight end Wyatt Weeks earned the team's only other first-team offensive selection after hauling in seven catches for 100 yards and a touchdown.
Defensive lineman James Grizzle gave opposing quarterbacks fits in 2013, racking up a team-best 11 sacks and 54 total tackles. Meanwhile, Shane Levy earned a first-team nod in his first season at linebacker, totaling 51 stops — six for loss — and two interceptions.
Jared Sommers, the Chieftains' only underclassmen to receive all-league recognition, was named a first-team defensive back. He tied for the team lead with 81 tackles and picked off a team-high four passes in his junior season.
Second-team football selections are Kissinger (DL), Grizzle (OL), Levy (RB), Chase Sample (OL), Ben Johnson (WR), Eric Tate (PK) and Luke Carey (LB). Honorable mentions are Weeks (DL), Johnson (DB) and Tyler Ford (QB).
After earning an honorable mention on last year's all-league volleyball team, libero Marissa Martin wrapped up her high school career with first-team honors in 2013. Martin led the Chieftains in digs throughout the season, in which THS finished 13-24. She was the team's only all-league selection.
First-teamer Tressa Walker headlined the Chieftains' nine all-league cross country selections this season. The top 10 finishers at the annual league meet earn first-team selections, while finishers 11-20 earn second-team selections. Walker finished eighth in the girls race.
Second-team recipients for the girls were Isabella Behm (12th), state qualifier Emily Chambers (14th), Sophia Wetta (16th), Emily Williams (17th) and Nicole Zerrer (18th). Second-team boys were Drew Cook (16th), Brad Andrews (18th) and Garrett French (19th). All aforementioned runners will be back next season.
The THS soccer team had five players earn all-league selections, including first-team forward Asher Huseman. Huseman led THS with 18 goals in 18 games this season and helped the Chieftains reach their fifth straight regional championship game.
Midfielder Ben Edmonds earned the Chieftains' only second-team nod, while Kyle Caldwell (defender), Alex Kroll (goalkeeper) and Evan Stilgenbauer (utility) were honorable mentions.
THS fall All-KVL selections
Football
Cole Holloway — First-team RB
Cody Snyder — First-team OL
Jared Sommers — First-team DB
Zeke Kissinger — First-team OL/Second-team DL
James Grizzle — First-team DL/Second-team OL
Shane Levy — First-team LB/Second-team RB
Wyatt Weeks — First-team TE/Honorable mention DL
Chase Sample — Second-team OL
Eric Tate — Second-team PK
Luke Carey — Second-team LB
Ben Johnson — Second-team LB/Honorable mention DB
Tyler Ford — Honorable mention QB
Volleyball
Marissa Martin — First-team (libero)
Cross country
Tressa Walker — First-team girls
Isabella Behm — Second-team girls
Emily Chambers — Second-team girls
Sophia Wetta — Second-team girls
Emily Williams — Second-team girls
Nicole Zerrer — Second-team girls
Drew Cook — Second-team boys
Brad Andrews — Second-team boys
Garrett French — Second-team boys
Boys soccer
Asher Huseman — First-team forward
Ben Edmonds — Second-team midfielder
Kyle Caldwell — Honorable mention defender
Alex Kroll — Honorable mention goalkeeper
Evan Stilgenbauer — Honorable mention utility