THS

wrestlers ready to build on regional championship season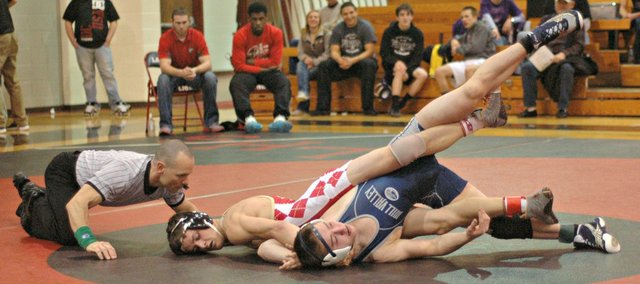 THS wrestling schedule
Dec. 7 — at Wamego
Dec. 13-14 — at Eudora
Dec. 19 — at Santa Fe Trail
Dec. 21 — Tonganoxie Invitational
Jan. 9 — at Spring Hill
Jan. 11 — at Louisburg
Jan. 17-18 — at Basehor-Linwood
Jan. 25 — at Holton
Feb. 1 — at Baldwin
Feb. 6 — vs. Bonner Springs
Feb. 15 — at KVL tournament (Piper)
Feb. 21-22 — Regionals (TBA)
A year ago, Tonganoxie High enjoyed arguably its best wrestling season in school history. With several key contributors back for the 2013-14 campaign, expectations are at an all-time high.
Coming off their first-ever regional championship and a 10th-place finish at state, the Chieftains have their sights set on even more success in the coming months.
Several varsity wrestlers are back, including five state qualifiers in juniors Dalton Tavis and Asher Huseman and seniors Clayton Himpel, Luke Carey and Zeke Kissinger.
"If we put in hard work and get everything done in the practice room like we're supposed to, we should be good for tournaments and stuff," Carey said. "We've just got to do our hardest that we can in here."
Himpel, who owns a 116-22 record, is a three-time state qualifier. He took fourth at last year's meet. He is also a three-time Kaw Valley League champion and two-time regional champion. He helped THS defend its KVL team title last season after the Chieftains won their first title in 21 years in 2012.
Tavis and Huseman have each made the trip to Salina twice, while Carey and Kissinger have been once. The Chieftains will also have the services of 2012 state qualifier Joe Wolf, who returns for his senior season after missing nearly all of last year with a knee injury.
Senior Jordan Boudreaux and junior Garrett Martin also put in varsity time last year and will look to play more prominent roles this winter.
Gone are 2013 grads Gus Dent (170), Julius Coats (195) and Thomas Miller (220). All three were KVL champions and state qualifiers last season. Coats, who reached a No. 1 state ranking late in the season, finished fourth at state, while Miller came in sixth.
Several underclassmen will vie for varsity spots, as this year's roster includes two juniors and 15 freshmen.
"It's going to take a lot of hard work," Kissinger said. "With Joseph being back, that's going to help a lot, then we have some younger guys who can step in and fill some of the weights. We're going to have to push people."
Most varsity spots and weight classes are yet to be decided. A lineup likely won't come into focus until the team's Red-White wrestle-off, set for 6:30 p.m. Dec. 3. In the meantime, team members are hard at work in the practice room, putting in the time and effort that has led to so much success over the last few seasons.
"This first week, it's one of those things where they know it's a grind," coach Jeremy Goebel said. "Our thing is we've got to work harder than anyone in the state.
"With these kids, especially this senior core, leaving their mark is going to be huge. With that being said, they're going into this full-throttle and ready to roll."
THS will open its season Dec. 7 at the Wamego Invitational.