THS

girls must replace three starters from state team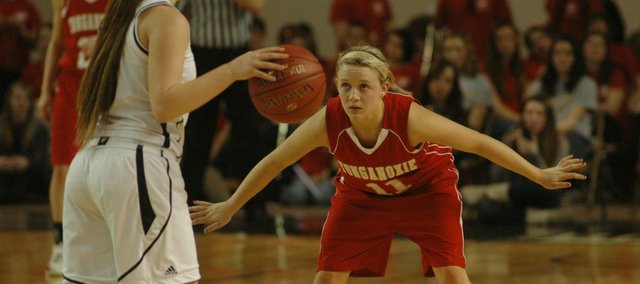 THS basketball schedule
Dec. 6 — at Lansing
Dec. 13 — vs. Ottawa
Dec. 17 — at Piper
Dec. 19 — vs. Anderson County
Jan. 7 — vs. Bishop Ward
Jan. 10 — at Basehor-Linwood
Jan. 14 — at Bonner Springs
Jan. 17 — vs. Turner
Jan. 20-25 — Tonganoxie Invitational
Jan. 31 — vs. Atchison
Feb. 4 — vs. Lansing
Feb. 7 — vs. Mill Valley
Feb. 11 — vs. Basehor-Linwood
Feb. 14 — vs. Piper
Feb. 18 — at Turner
Feb. 21 — at Bishop Ward
Feb. 25 — at Mill Valley
Feb. 27 — vs. Bonner Springs
March 3-8 — Sub-state (TBA)
If the Tonganoxie High girls want to make a return trip to state in March, they'll have to do so with a largely new varsity lineup.
The Chieftains must replace three starters and nearly 60 percent of their offensive production from last year's 15-8 squad. Seniors Emily Soetaert and Katelyn Waldeier return to lead a team that ended a six-year state drought a year ago, but the three remaining starting spots are currently up for grabs.
"We had some kids play about 30 games this summer, so they got used to playing with Emily and Katelyn," coach Randy Kraft said. "They got exposed to varsity a little bit, and they got better as the summer went on. The first few weeks are going to be pretty key for us. We'll see how quickly we can develop some of these kids."
Soetaert, a guard, averaged 7.9 points per game as a junior. She was at her best in the postseason, averaging 12.3 points per contest. She's the lone remaining piece of last year's backcourt, which also included 2013 grads Hannah Kemp and Madee Walker. Kemp, an All-Kaw Valley League honorable mention, averaged 6.7 points and a team-best 3.6 assists, while Walker put up 6.5 points and 2.8 assists per game.
Players vying for time at guard this season are senior Kara Banks, junior Tressa Walker and sophomore Kaitlin Hall. Banks was the Chieftains' first player off the bench in 2012-13, while Walker saw minimal playing time, primarily in late-game situations. Hall spent last season on the junior varsity squad.
"We have a lot of talent this year with the juniors and even a couple sophomores," Soetaert said. "We're just going to have to work together to fill some spots."
Waldeier started every game in the post last season and led all returning players with 10 points and 8.4 rebounds per outing. She'll likely get even more looks down low following the loss of All-KVL first-teamer Jenny Whitledge, who graduated as the program's all-time leading rebounder and second-leading scorer. Whitledge averaged a double-double last year with 16 points and 11.4 rebounds.
Junior Sarah Ahart and sophomore Cheyenne Ford are also competing for time under the basket. Ahart saw time in 21 games as a reserve last year, while Ford played JV.
Despite returning just four players with significant varsity experience, Waldeier hopes last year's trip to state will provide all members of this year's roster some extra incentive to put in the effort necessary for another bid.
"State was a crazy experience, even for the girls sitting on the bench," she said. "I just know that all of us really want to get back there on that court."
THS will open its season Dec. 6 with a KVL clash at Lansing. The Chieftains' first home action is set for Dec. 13 against Frontier League opponent Ottawa. A complete schedule is available at tonganoxiemirror.com.
They'll play four games before the start of winter break.
"It's going to be really important to get off to a good start," Soetaert said. "If you do that, you've got a good season to look forward to. If you get down a couple games, it's hard to pick back up and get going."