McLouth girls aim to improve in 2013-14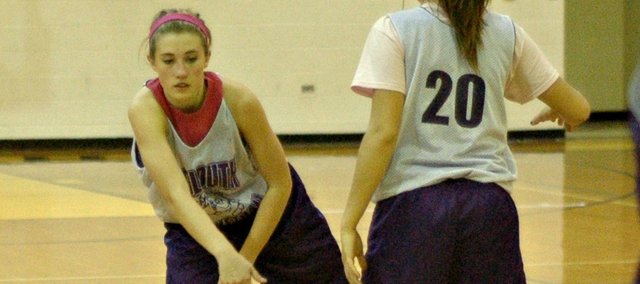 Girls basketball schedule
Dec. 6 — vs. Heritage Christian
Dec. 10 — at JC North
Dec. 13 — vs. Maranatha
Dec. 20 — vs. Oskaloosa
Jan. 7 — vs. Bishop Seabury
Jan. 10 — at Immaculata
Jan. 14 — vs. Pleasant Ridge
Jan. 17 — at Oskaloosa
Jan. 23 — at Maranatha
Jan. 28-Feb. 1 — at JCN tournament
Feb. 4 — at Pleasant Ridge
Feb. 7 — at Horton
Feb. 11 — at KC Christian
Feb. 14 — at Jackson Heights
Feb. 18 — vs. Immaculata
Feb. 21 — vs. JC North
Feb. 25 — vs. Maur Hill
Feb. 28 — vs. Valley Falls
March 3-8 — Sub-state (TBA)
McLouth — It's been one year since Lindsey Graf took over the McLouth High girls basketball team. Several key contributors are back for Graf's second season at the helm, and coaching and players alike are hopeful that year of experience will translate into improvement in the win column.
Five varsity players — three of them starters — return for the 2013-14 season, in which the Bulldogs will try to build on last season's 3-16 mark.
"When I'm making practice plans, I'm already looking at practices eight or nine from last year," Graf said. "We don't have to spend so much time on how to run every drill because they know a lot of that."
Seniors Kayla Steffey and Konner Patterson and junior Angela Dailey will lead the charge after starting all of last season. Steffey, the Bulldogs' point guard, led all returning players with 7.1 points, 1.6 steals and 1.1 assists per game.
MHS won its season opener a year ago, but dropped its next four. However, an increased workload in early-season practices — thanks in part to players' familiarity with Graf's system — could lead to a faster start this winter.
"Hopefully we'll be able to move the ball a lot faster," said Steffey, an All-Delaware Valley League second-team selection. "We've already started practicing transition and everything, just getting it down the court as fast as we can."
Gone are 2012-13 starters Kaitlyn Hullinger and Summer Cerny. The loss of Hullinger — last year's leading scorer and rebounder — leaves the Bulldogs without a true post player. Patterson saw most of her time in the frontcourt, but nobody on this year's roster is taller than 5-foot-8.
Despite the overall lack of height, coaches have put a strong emphasis on rebounding in early practices.
"We weren't very good at it last year, but it's going to be imperative because we'll be out-sized by most people we see," Graf said. "We have at least two rebounding drills a day.
"It's going to be more of an agile, moving post. Honestly, our best people at that will be some of our guards, and we may take them down there. It could cause some matchup difficulties for teams that do have a lot of bigs."
Steffey and Dailey tied among returning players with 4.3 board per game last season.
Sophomores Anna Moore and Dominique Tullis likely will step into the remaining starting spots after seeing varsity time as freshmen. Other players vying for time are sophomores Becca Nowlan, Liz Bashaw-Butler, Shelby Turner and Shannon Greene, as well as freshman sisters Hannah and Rachael Sparks.
In 2014, the Bulldogs will also have the services of transfers Meghan Jackson (Tonganoxie) and Shannon Brown (Pleasant Ridge). Per transfer rules, Jackson, a junior, and Brown, a sophomore, must sit out the current semester.
MHS will open its season Dec. 6 at home against Heritage Christian Academy. The Bulldogs have four games scheduled before break, including home dates against Maranatha Academy and Oskaloosa and a trip to 2013 state runner-up Jefferson County North.
"Last year, I feel like we didn't really have the drive to win," Steffey said. "A lot of us would just give up. We just need to be able to push ourselves and not let ourselves get down."