MHS

boys up intensity in Graf's first year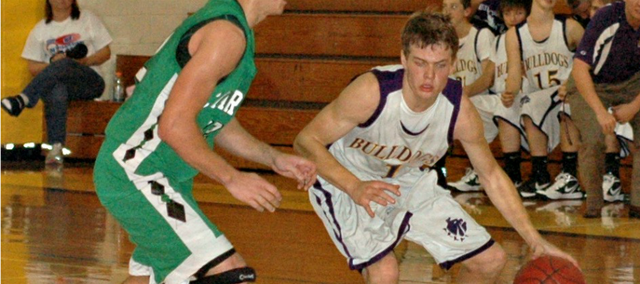 Boys basketball schedule
Dec. 6 — vs. Heritage Christian
Dec. 10 — at JC North
Dec. 13 — vs. Maranatha
Dec. 20 — vs. Oskaloosa
Jan. 7 — vs. Bishop Seabury
Jan. 10 — at Immaculata
Jan. 14 — vs. Pleasant Ridge
Jan. 17 — at Oskaloosa
Jan. 21-25 — McLouth Invitational
Jan. 30 — at Maranatha
Feb. 4 — at Pleasant Ridge
Feb. 7 — at Horton
Feb. 11 — at KC Christian
Feb. 14 — at Jackson Heights
Feb. 18 — vs. Immaculata
Feb. 21 — vs. JC North
Feb. 25 — vs. Maur Hill
Feb. 28 — vs. Valley Falls
March 3-8 — Sub-state (TBA)
McLouth — When the McLouth High boys tip off the 2013-14 season, they'll do so with a new coach, a new league and a new attitude.
Eager to improve on last year's 10-9 finish, the Bulldogs have begun preparation for coach Jason Graf's first year. With two starters and five lettermen back from a year ago, there is plenty of optimism surrounding the team as the season approaches.
"We've had some great practices," said Graf, who took over for former coach and athletics director Jason Schroeder in June. "The learning curve has been pretty good because of the work we've put in this summer. The effort has been amazing."
Graf took the reins of the boys program after spending a year as an assistant coach on the girls team. His inaugural season will be McLouth's first in the newly formed Northeast Kansas League.
Graf must fill voids left by 2013 graduates Carter Gish, Dakota Cop and Marc Walbridge. Gish, a 6-foot-6 forward, led the team in scoring last season. Cop joined Gish in the post, while Walbridge saw time at guard. Gish was an All-Delaware Valley League first-team selection, while Cop and Walbridge were honorable mentions.
Senior Dylan Dover and junior Jack Courtney will likely assume the starting roles under the basket after playing significant varsity time a year ago.
"Everybody just wants to get out here, work hard and show what we can do," said Dover, whom Graf said has greatly benefited from returning to the football team in the fall. "We've been practicing really hard. We've got to play with a must-win mentality. We've got to go out knowing we can do it and get it done."
Seniors and All-DVL honorable mentions Drew Cerny and Nick McAferty started last year, and junior Nic Bair saw varsity time as well, so the Bulldogs will begin the season with some experience in the backcourt. Graf said he also expects junior Kevin Gann, who saw limited time last year, to make a bigger impact on varsity this winter.
Several other players are currently battling for playing time in practice, which players and coaches alike have referred to as high-intensity.
"Coach Graf, he really wants to step the tempo up in practice, so it's been a lot faster so far," McAferty said. "During the summer, even though it was summer games, he still wanted us to be at our best. I like that in a coach."
In addition to a faster pace and more intensity on both ends of the floor, Graf hopes to see offensive production up and down the roster. Gish and Cop led MHS in scoring in nearly every game last season, and other players rarely reached double figures.
"I jokingly told our guys I'd like to have 10 of them average 15 points a night," Graf said. "There will be nights where somebody goes off, but it's very balanced right now. We're going to have to play a lot of depth."
While the top six varsity spots have likely been secured, Graf said the remaining bench spots are up for grabs.
The Bulldogs will start things off Dec. 6 with a home game against Heritage Christian Academy. They'll follow that up with a trip to Jefferson County North — a state qualifier each of the last two seasons — then close out the current semester at home against Maranatha Academy and Oskaloosa.
"I definitely think we're motivated right now," Cerny said. "Everything has been fast-paced, and we're looking forward to doing even more. If we just keep practicing hard, I think we can get a few more W's this year. The potential is through the roof."