Club presents Tonganoxie
VFW

member with latest quilt creation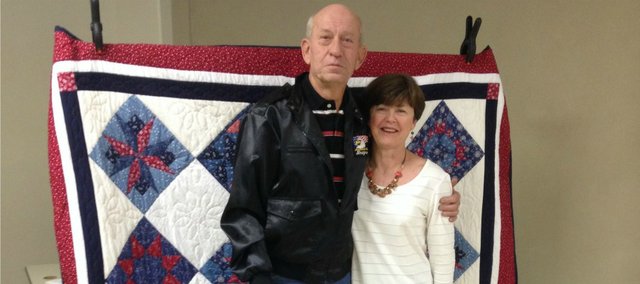 Some friends joked with Pete Novosel about the Quilt of Valor he would be receiving from the Tonganoxie Senior Quilters Club.
They asked whether the women who created the quilt came with it.
Novosel replied that if they did, he'd be using the quilt on a park bench in VFW Park because his wife, Pat, would kick him out of the house.
It was one of several light-hearted stories Novosel told last week during a reception attended by about 20 people at the VFW Post Home.
The quilting club finished the red, white and blue quilt in less than three months, starting in late July and finishing in mid-September. The quilt's pattern, known as the Star Sampler, has 12 star blocks.
The Quilts of Valor Foundation helps pair volunteer quilters with active-duty military members and veterans.
"I think it's a tremendous honor," Novosel said about receiving the quilt.
VFW Post Commander Floyd Olson presented the quilt to Novosel, also a member of the local post.
Novosel thanked fellow VFW member Elmer Tanking for encouraging him to join Post 9271.
A longtime Kansas City, Kan., resident, Novosel entered the Army in August 1967 at Fort Leonard Wood, Mo. From there he went to infantry training at Fort Polk, La., before serving a year in Vietnam with the 25th Infantry Division. Novosel was discharged in August 1969 following an injury he sustained in battle. From there, he was stationed at Fort Jackson, S.C.
He earned a Combat Infantryman's Badge, a Bronze Star, a Purple Heart and an Army Commendation Medal.
He said he was proud of his awards, but he was just doing his job, his duty, as a member of the military. He also spoke about looking out for his fellow soldiers.
"America didn't invent how to help each other, but we sure as hell refined it," Novosel said.
Faith always has been special to the veteran. He carried a Rosary in his left front pants pocket while serving. It was a Rosary his mother gave him. Though not the same one, he continues to carry one in that same pocket today.
"A lot of religion, but a little bit of superstition," Novosel said about carrying the Rosary.
During the reception, Novosel presented quilter Janet Stuke with South Vietnamese paper currency he accumulated while serving in Southeast Asia.
The quilt is the second the quilting club has created for Quilts of Valor. The group presented its first in February to Staff Sgt. Zeke Crozier of Olathe. Crozier was injured in 2011 while serving in Afghanistan. Meri O'Hare, Crozier's aunt, also is a member of the Tonganoxie Senior Quilters and was at last week's ceremony.
She said the club plans to make a quilt annually for the local VFW Post so it can present them to additional veterans and soldiers.