Holiday events planned throughout Tonganoxie area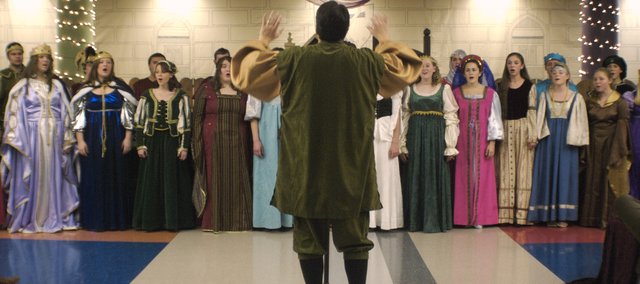 Tonganoxie actually got a head start getting into the Christmas spirit with Saturday's Mayor's Christmas Tree Lighting festivities. But another event is planned for Tonganoxie, as well as festivities in McLouth and Basehor. Here is a look at upcoming events:
Tonganoxie Madrigal Feaste
A Tonganoxie tradition returns for its 12th year Friday, Dec. 6, and Saturday, Dec. 7, at Tonganoxie Middle School.
Tonganoxie High School and Tonganoxie Middle School students will present the Madrigal Feaste both nights.
Doors open at 6 p.m. each evening, with the processional beginning at 6:30 p.m.
All seats are reserved and no tickets will be sold that night. Tickets are $15 each, though guests are welcome to donate more. All proceeds benefit the Tonganoxie THS and TMS vocal music departments.
The evening will feature the traditional holiday meal of wassail, barley soup, cracked wheat bread with butter, ham steak, roasted potatoes, green beans, spiced apple rings and a dessert tart.
This year's theme is "a very twisted version of Robin Hood."
Servers, ushers and members of the Royal Court are all students in the TMS and THS vocal music departments. After the meal and the revelry, the eighth grade choir, THS concert choir and Chieftain Singers will perform a concert.
There is seating for more than 200 guests in the TMS commons area each night. Director Tom Gifford suggests that anyone interested in attending order tickets soon, as he is expecting sellout crowds both nights.
For tickets, call at 913-845-2654.
Annual Basehor silent auction
The Basehor Chamber of Commerce will have its annual Christmas dinner and silent auction on Thursday, Dec. 5, at the Falcon Lakes Golf Club, 4605 Clubhouse Drive, Basehor.
The silent auction will benefit Basehor-Linwood Assistance Services, a local non-profit that funds a food pantry and the local Adopt-a-Family program for the holidays. Social hour and auction bidding will take place from 5:30 to 6:30 p.m. Dinner starts soon after and is $15 per person in advance, or $20 at the door.
Donations for the silent auction can be dropped off at Kansas Secured Title, 1106 N. 155th St. For more information on how to donate, call (913) 724-8300. Tickets can be purchased before the event at the Basehor Community Library, Citizens Savings and Loan, Basehor City Hall or First State Bank & Trust.
McLouth Festival of Trees
McLouth will have its fourth annual Festival of Trees from 4-6 p.m. Saturday, Dec. 7, at the McLouth City Park in downtown McLouth.
Individuals and groups are invited to bring their decorated trees, both real and artificial, to be set up starting Nov. 30. The lighting will then take place on Dec. 7.
Food and drinks will be served and door prizes will be given out.
For more information, contact Mary Garcia, 913-796-6921, or Kim Everley at McLouth City Hall, 913-796-6411.
Two visits from Santa set
for Basehor
Santa, in two forms, is scheduled to make a stop in Basehor at Wagg'n Tails Day Spa, 15630 Pinehurst Drive.
Surfing Santa and classic Santa will arrive for photo opportunities with families and their pets on Dec. 14 and Dec. 15 respectively.
All proceeds from the event will go to the youth group at the Basehor United Methodist Church.