Chieftain soccer comes up short vs.
PLHS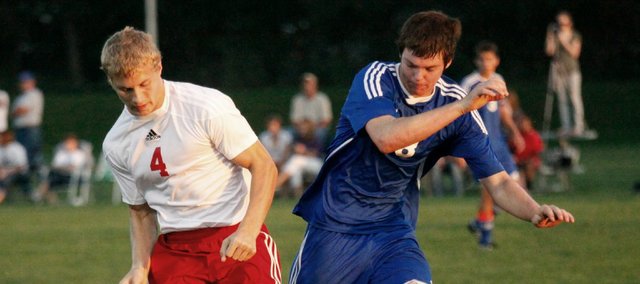 PLHS 3, THS 2
First half scoring
Logan Hatfield (PL), 16:55
Second half scoring
Asher Huseman (TON), 33:34
Austin Johanning (PL), 32:17
Will Hinrichsen (PL), 28:45
Tyler Novotney (TON), 17:41
When the Tonganoxie High soccer team traveled to Perry-Lecompton last month, it left with a one-goal loss. Unfortunately for the Chieftains, Tuesday's rematch was more of the same.
THS played the Kaws tough and came up with two second-half goals, but couldn't quite overcome an early deficit in a 3-2 loss at Chieftain Park.
The Chieftains (3-7) entered the second half on the wrong side of a 1-0 score, but needed less than 10 minutes to tie things up. Asher Huseman broke free down the right side of the field and his shot attempt bounced off the hands of goalkeeper Daniel Munoz-Crow and into the net with 33:34 remaining.
"In the second half, we were able to see the field a little bit better," coach Brian Kroll said. "Asher took it straight to them rather than trying to cut people up. Was it a high percentage shot? Not even a little bit, but he put it where it needed to be."
The score was Huseman's team-leading 10th of the season.
The Kaws regained the lead less than two minutes later on a goal by Austin Johanning, then doubled their advantage when Will Hinrichsen scored with 28:45 remaining. Tonganoxie's Tyler Novotney made it 3-2 when he drew Munoz-Crow out of the net and punched it in with 17:41 left, but that's as close as the Chieftains got.
Both teams struggled for momentum in the game's opening minutes, but PLHS seemingly gained an edge when Johanning drilled a ball into the net with 28:25 left until halftime. The goal was negated, though, as Johanning was called offsides.
THS got a opportunity to take the lead a few minutes later when Munoz-Crow accidentally hit a teammate while trying to clear a ball. Novotney corralled the ball and got a shot off, but the Kaw keeper got back just in time to deflect the ball away from the net.
The Chieftains didn't get another clear shot on goal for the remainder of the half, as PLHS dominated possession for the rest of the period.
"They were beating us to every ball," Kroll said. "We were sitting there and waiting for the ball to come to us rather than going to get it. We were playing very complacent and almost entitled. There seems to be no 'want' right now."
Kroll's squad will try to get back in the win column Monday when it travels to Kaw Valley League opponent Lansing. The contest is the first in a three-game road trip, which also includes stops at Bishop Ward and Maur Hill.