Game notes:
THS

football at Bishop Ward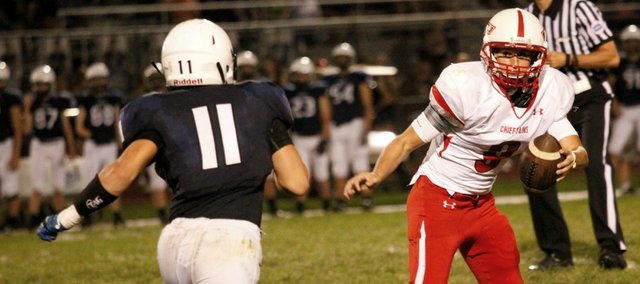 The Tonganoxie High football team will try to get back on a winning track Friday when it travels to Bishop Ward for another Kaw Valley League showdown. The Chieftains (3-1, 2-1) suffered their first loss of the season last week at the hands of Class 5A Mill Valley, 27-7. Meanwhile, the Cyclones (0-4, 0-3) are coming off a 49-12 loss to previous winless Turner. THS defeated Ward on homecoming last season, 30-16.
Rear view mirror
This week's practices have been the first following a loss for the 2013 Chieftains. Last week's defeat at Mill Valley was a game of missed opportunities, as THS uncharacteristically committed three turnovers and dropped several passes. The defense held the Jaguars to just two touchdowns, but a pick-six and a punt return touchdown made for a more lopsided final score.
Despite catching several bad breaks and not capitalizing on scoring chances a week ago, coach Al Troyer said players' attitudes have been in the right place since practices resumed Monday.
"They're rebounding well," Troyer said. "They were in a situation where they knew they had opportunities that just went by them. We were able to refocus. We've approached this as business as usual, so it doesn't matter who we're playing. We're just ready for the next game on the list."
Decade of dominance
THS has played Bishop Ward every year since the 2004 season. A win Friday would be the Chieftains' fourth straight in the series and their seventh in 10 years. THS has won the last three meetings by an average of 30 points. The Chieftain defense has held the Cyclones to less than 20 points in seven of the last nine meetings, including four showings of six points or less. The only shutout came in a 7-0 win in 2005.
Bishop Ward won three straight meetings from 2007 to 2009, including a 48-12 victory in 2008 — its most lopsided win against the Chieftains in the last decade. THS won all three meeting from 2004 to 2006.
Do-it-all player
Bishop Ward junior Bryan Barnhart has been the Cyclones' top player on both sides of the ball in 2013. He has thrown for 137 yards and three touchdowns on 12-of-34 passing and has added 139 yards and two scores on the ground.
"He's a good athlete who runs the option real well," Troyer said of Barnhart. "He can run the ball well and throw to open receivers. He's definitely someone to watch out for."
Barnhart is also the team's leading tackler with 45 total stops, including one for negative yardage, and has recovered one fumble.
Defensive showcase
Since giving up 381 total yards in its season-opener against Lansing, the Chieftain defense has become one of the toughest in the KVL. In its last three games, THS has allowed just 206 yards per contest.
The Chieftains have been particularly strong against the run, giving up just 82.3 yards per game in 2013. That could mean trouble for Ward, which has averaged just 92.8 rushing yards through four games. Cole Henley is the Cyclones' top ball carrier with 148 yards and a touchdown on 29 carries.
In total, BWHS is averaging 140.3 yards of total offense per game.
Home stretch
After Friday's game, THS will be more than halfway through the 2013 regular season. There have already been plenty of highlights, but the Chieftains will focus on continued improvement as district play draws closer.
THS will host Turner next week for homecoming, then open its district slate a week later against Perry-Lecompton.
"It's going by fast. To already be in week five, it seems like it's just flown by," Troyer said. "I think our kids are doing well. Knock on wood, but we've been able to stay pretty healthy, so that's been an attribute to their hard work in the summertime."