Chieftain defense responds in rout of Ward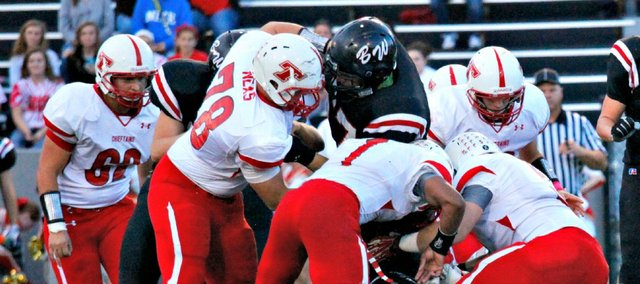 KVL standings
School, KVL, Overall
Mill Valley, 4-0, 5-0
Bonner Springs, 4-1, 4-1
Tonganoxie, 3-1, 4-1
Piper, 2-2, 2-3
Basehor-Linwood 2-3, 2-3
Lansing, 2-3, 2-3
Turner, 1-4, 1-4
Bishop Ward, 0-4, 0-5
Kansas City, Kan. — Tonganoxie High put itself in control just six minutes into its game Friday at Bishop Ward, but a big play by the hosting Cyclones ultimately set the tone.
With the Chieftains up 14-0, Ward's Cole Henley took a handoff from quarterback Bryan Barnhart midway through the first quarter. Henley broke several tackles on his way to a 48-yard touchdown run, prompting a brief — but hardly quiet — speech from THS coach Al Troyer.
"They gave up on the play, and that's not how we respond on defense," Troyer said. "We're more about rallying to the ball so they don't get away like that, so that was disappointing."
Troyer's message was heard loud and clear. The Chieftains allowed just 116 more yards in a 55-6 romp of the Cyclones.
THS (4-1, 3-1 Kaw Valley League) struck first with touchdown runs by Tyler Ford and Shane Levy, setting the stage for Henley's long score. The momentum didn't stay with Ward (0-5, 0-4) for long, though, as Cole Holloway took an option pitch up the sideline for a 56-yard touchdown — his first of three scores — less than a minute later.
"That was good for the mental aspect of the kids," Troyer said. "They just got back their focus, which it seemed like they had kind of lost for a minute."
Holloway added another score with 4:21 left in the second quarter, and Ford found Maleak Gibson, who made an over-the-shoulder touchdown catch from 34 yards out on the team's next possession. Ward failed to answer, as THS took a 34-6 lead into the break.
The Chieftain offense picked up where it left off after intermission, as Holloway scored his third and final touchdown with 8:09 left in the third quarter. Jared Sommers added a seven-yard score with 4:20 left in the period, and a running clock went into effect.
Jordan Boudreaux capped off scoring with a 12-yard touchdown run — his first score of the season — with 3:25 left in the fourth quarter. The lopsided score allowed THS coaches to play reserves for nearly all of the second half.
"We didn't get any breathing room last year to have that opportunity," Troyer said. "It's nice to be able to get those backups in to get some varsity experience."
The THS defense was especially dominant after halftime, limiting the Cyclones to just 20 yards — 12 of which came on a run by backup quarterback Jordan Mitchell as time expired. James Grizzle had four sacks in the contest, giving him a team-high eight on the year. He tied Levy and Luke Carey for the team lead with six tackles in the game.
Holloway finished with a game-high 158 yards on just 14 carries. He has now rushed for 715 yards and seven touchdowns this season. Ford threw for 129 yards on 6-of-11 passing. Barnhart threw for 89 yards, but was intercepted twice by Sommers. He was just 2-of-8 in the second half and 10-of-23 overall.
THS will host Turner next week for homecoming at Beatty Field. The game will serve as the Chieftains' final tune-up before the start of district play.
"We're not looking ahead to (district)," Troyer said. "We've broken down the season into phases, and this is the end of phase one. We've got to play well in phase one (league), even better in phase two (district), then we've got to really step it up in phase three (postseason)."
Score by quarters
THS 21 13 14 7 — 55
BWHS 6 0 0 0 — 6
First quarter
THS — Tyler Ford 8 run (Eric Tate kick), 9:34
THS — Shane Levy 5 run (Tate kick), 6:00
BWHS — Cole Henley 48 run (kick failed), 4:49
THS — Cole Holloway 56 run (Tate kick), 4:01
Second quarter
THS — Holloway 1 run (Tate kick), 4:21
THS — Maleak Gibson 34 pass from Ford (kick failed), 2:09
Third quarter
THS — Holloway 12 run (Tate kick), 8:09
THS — Jared Sommers 7 run (Tate kick), 4:20
Fourth quarter
THS — Jordan Boudreaux 12 run (Tate kick), 3:25
Rushing
THS: Cole Holloway 14-158, Shane Levy 10-58, Tyler Ford 4-40, Jordan Boudreaux 6-32, Jared Sommers 3-22, Luke Carey 4-18; BWHS: Bryan Barnhart 18-34, Cole Henley 9-29, Jordan Mitchell 1-12.
Passing
THS: Ford 6-11-0 129, Sommers 1-1-0 26; BWHS: Barnhart 10-23-2 89.
Receiving
THS: Ben Johnson 3-64, Maleak Gibson 1-34, Sommers 1-29, Wyatt Weeks 2-28; BWHS: Xavier Tucker 4-47, Jared Paulakovich 3-25, Henley 3-17.