McLouth stuffs Pleasant Ridge after delay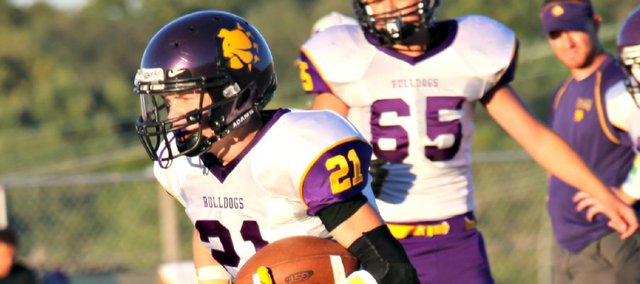 It took nearly an entire extra day, but when McLouth High finally left the field at Pleasant Ridge, it did so with a victory.
The Bulldogs overcame a rain delay that suspended play until Saturday afternoon to spoil the Rams' homecoming with a 28-6 victory.
The teams entered the second quarter tied at 6-6, but players were called off the field to wait out a thunderstorm that pounded most of northeast Kansas. Play was eventually suspended until 3:30 p.m. Saturday, meaning the Bulldogs (3-2) had to make a return trip to Easton.
"It wasn't really too bad for us," coach Chris Stewart said. "You never like to do that kind of thing, but we talked to the kids about getting home and getting to bed, then we got them up early so they didn't sleep late in the morning. They were fresh and ready to go."
MHS started with the ball when play resumed and needed just two plays to take its first lead of the game. Nick McAferty made it 14-6 with a three-yard touchdown run and two-point conversion, and the Bulldogs stayed in front the rest of the way. McAferty, who finished with three rushing touchdowns, added a 23-yard score and Drew Cerny tacked on a one-yard touchdown before the end of the third quarter.
"I felt like the momentum changed a little bit Friday night, then we picked up right where we left off," Stewart said. "We got on top of them real fast."
Pleasant Ridge (3-2) opened scoring Friday night when quarterback Nick Holmes scored on a three-yard run in the first quarter, but McAferty answered with a 29-yard touchdown run of his own later in the period. Play was suspended about two minutes into the second quarter.
Cerny had another big game on the ground, rushing for 135 yards on 21 carries. McAferty added 66 yards on six carries.
McLouth can take a step in solidifying a playoff spot when it opens Class 2-1A district 2 play Friday at Jefferson County North (1-4). The Bulldogs defeated the Chargers last season, 40-0.
"We'll take it one game at a time, but each game is very important," Stewart said of district play. "We've got to come out and work hard this week, and hopefully we'll come out with a win."
Leavenworth-Immaculata (0-5), Oskaloosa (2-3) and Valley Falls (0-5) round out the Bulldogs' district.