Chieftains, Bulldogs run at McLouth Invitational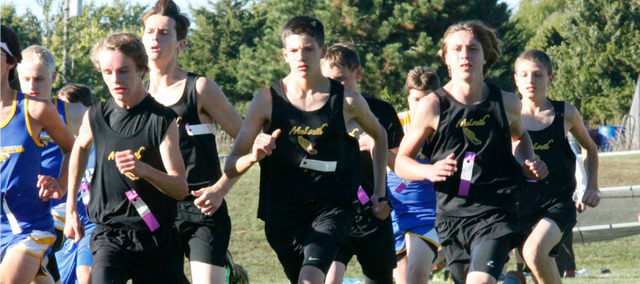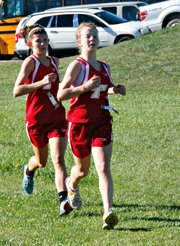 Girls team results
Christ Prep, 39
Tonganoxie, 44
Pleasant Ridge, 109
JC North, 109
KC East Christian, 115
Silver Lake, 163
Royal Valley, 171
Bishop Seabury, 204
McLouth, 245
Boys team results
Christ Prep, 46
Tonganoxie, 70
Silver Lake, 108
Royal Valley, 138
KC East Christian, 142
JC North, 156
KC Christian, 190
Pleasant Ridge, 192
Jeff West, 199
McLouth, 242
Riverside, 255
Bishop Seabury, 261
When the McLouth Invitational was called off last month because of inclement weather, the Tonganoxie and McLouth girls were already at the starting line. The race was finally run Monday, and for both Chieftain teams, it was worth the wait.
Both THS squads finished second in the team standings, finishing behind Christ Preparatory Academy.
"I was pretty pleased with how things went," coach John Tollefson said. "I thought our kids ran fairly strong overall."
The top-three finishes were the second in as many meets for both teams. The boys finished second and the girls third Thursday at the Maranatha Invitational.
Powered by five top-15 individual finishes, the girls finished just five points behind CPA with a score of 44. Sophie Wetta led the way with a fifth-place time of 16:39.33.
Tressa Walker (17:11.01), Isabella Behm (17:13.96) and Nicole Zerrer (17:17.01) occupied spots 9-11 and Emily Chambers (17:36.86) came in 13th.
Wetta and Walker have earned top-10 finishes in each of their last two meets. The duo placed eighth and ninth, respectively, at Maranatha.
"They really came up quick and they gelled well as a team," Tollefson said of the girls. "Our focus has been on a 'running as a pack' mentality. I think our power as a team is the fact that we finish strong as a group."
Emily Williams (20th, 18:03.88) and Kourtni Freemyer (39th, 19:18.21) rounded out the girls' individual times.
The Chieftain boys got four top-15 finishes and carded a team score of 70, leaving them 24 points behind CPA. Brad Andrews paced the team with a time of 17:56.76 — good for eighth place individually. The boys have been led by a different runner in each of their last three meets.
"We've been kind of bouncing around with who's taking the lead," Tollefson said. "It's kind of nice to see them challenging each other like that."
Garrett French (11th, 18:12.23), Andrew Behm (14th, 18:15.19) and Ethan Phillips (18:20.27) joined Andrews in the top 15. Dylan Staatz (22nd, 18:29.8) was the only other Chieftain to figure into team scoring, but Drew Cook (25th, 18:34.52) and Justin Patrick (54th, 24:14.5) also competed.
Cook led the THS boys with a fourth-place finish at the Maranatha meet.
Ashley Nelson led the McLouth girls with a 41st-place time of 19:42.5, and Savanna Noble (47th, 20:23.27) and Emily Hoffines (54th, 20:55.91) didn't finish far behind. Jordyn Johnston (63rd, 22:37.01), Thea Enevoldsen (64th, 23:00.33) and Emma Evans (67th, 24:28.08) also ran for the MHS girls.
Injuries have prevented the Bulldogs from fielding enough girls to record a team score at several meets this season, but they were able to do so at their home competition. They finished ninth in the team standings.
"I think their mindset it to compete now," MHS coach Ryan Scott said. "They've been working hard."
As he's done several times this season, Ryan Bristol led the McLouth boys. He just missed the top 15, coming in 17th with a time of 18:21.75. Jordan Butler (46th, 19:44.39) was the next Bulldog to cross the finish line. He was followed by Ethan Doores (58th, 20:25.94), Shane Adams (60th, 20:32.52) and Zach Whaley (61st, 20:33.37), who rounded out team scoring. MHS finished 10th as a team.
"We're leaps and bounds from where we were," Scott said. "Just to see us in the 18- to 19-minute range, I'm pretty impressed with our work ethic so far."
Tristan Funk (62nd, 20:40.36) and Jason Bristol (79th, 23:26.46) were also in action on their home course.
The Chieftains and Bulldogs will both return to the course Thursday at the Pleasant Ridge Invitational in Easton. It is the competition for both squads before their respective league meets, at which time McLouth — a co-op team that includes runners from Oskaloosa — must split with the Bears and run individually.