Latest
USD

464 hall of fame class to be inducted Friday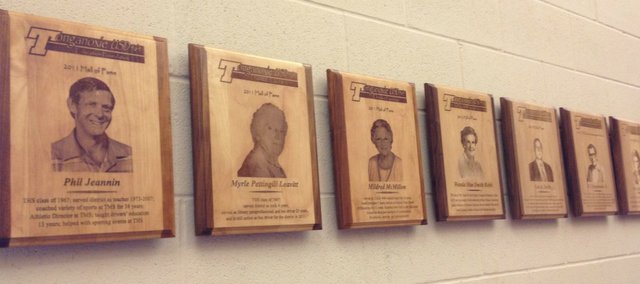 Longtime educators and Tonganoxie residents will be honored during Tonganoxie High School homecoming festivities Friday.
The Tonganoxie USD 464 Education Foundation will induct its newest class of its hall of fame — Phil Williams, Marvin Pine and the late Marie McDaniel. Jim Grinter is this year's alumni achievement award winner.
Ken Mark, education foundation president, said this year's class inductees are deserving of the recognition.
"All were very committed to our community and the schools and our kids," Mark said.
The foundation will have a reception for the inductees from 3-5 p.m. at the Myers Hotel. A presentation will be at 4 p.m. at the hotel. Inductees will be seated on the Beatty Field track during the THS football game and recognized at halftime.
The annual academic achievement banquet will start at 8 a.m. Saturday in Tonganoxie Middle School. Students who were in grades 3-7 last year who scored exemplary on their state assessment tests will be recognized at the banquet. USD 464 Superintendent Randy Weseman will give the keynote speech.
Here's a look at each of this year's hall of fame inductees. Each honoree will receive a plaque during Friday night's halftime ceremony. An identical plaque will hang in the Tonganoxie Performing Arts Center lobby in THS.
Marie McDaniel
McDaniel taught 22 years in Tonganoxie USD 464.
Affectionately known as Mrs. Mac, she started teaching sixth grade in 1970 and later taught eighth-grade English. Her first year of teaching eighth grade, she was carried out of the building on a stretcher as she was about to give birth to her youngest son, Chris. McDaniel also coached junior high school cheerleading and was a finalist for Kansas Teacher of the Year in the 1975-76.
In her last few years of teaching, she battled cancer. She missed very few days of class despite her chemotherapy treatments. She also continued to work on a master's degree in administration during her illness, a degree she earned weeks before her death in 1993.
Phil Williams
Williams graduated from Lebo High School in 1968 and attended Emporia State University where he played football. Williams taught and coached at Belle Plaine High School for a year before teaching math at THS for 30 years.
He continued to coach THS cross country after retiring from teaching. His 1991 boys team won the state championship, which still remains THS' lone state championship in a team sport. Williams has also served as public address announcer for THS sporting events for many years.
Jim Grinter
Grinter was raised on a farm in Reno and graduated from Reno Grade School. He then attended Tonganoxie High School and graduated in 1954. He attended Kansas University and graduated with a bachelor's degree in botany.
He participated in the Navy ROTC program at KU and upon graduation was a commissioned an officer in the Navy. He served two years on a ship based in Hawaii and then returned to Kansas to farm upon his discharge from the Navy.
In addition to a successful career in farming, Grinter has volunteered with several community organizations. He served on the first USD 464 school board and was a founding member and is a benefactor of the USD 464 Education Foundation.
He is a member of the First State Bank board of directors. Jim is past president and member of the Tonganoxie Kiwanis Club and the founder of the Tonganoxie Civic Club. He serves on the Northeast Kansas Farm Management Association Board of Directors and was named Kansas Tree Farmer of the Year in 2006. He is President of Grinter Farms, Inc.
Marvin Pine
Pine grew up in Lawrence and graduated from Lawrence High School. He graduated in 1964 from KU with an education degree and graduated with a degree in education.
He was hired as the first full-time physical education teacher at Tonganoxie Elementary School for grades K-8 in 1965. He was the first teacher to introduce gymnastics in physical education classes and he started a gym show at the elementary school. It became such a large event that it eventually was moved to the high school gymnasium.

He coached several school sports and also coached Junior Olympics track. Pine was the Tonganoxie Recreation Commission's first director. He also earned a master's degree and an administrator certificate from KU.
He was assistant principal at Tonganoxie Junior High School for five years and principal for 19 years, serving a total of 32 years in the district.