Pretty (supportive) in pink
Local bank raising money to help breast cancer survivors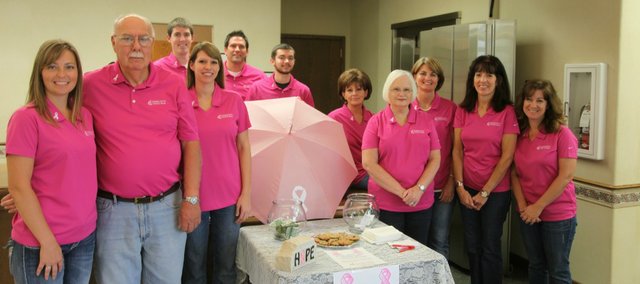 Community National Bank employees in Tonganoxie and Basehor are painting their branches pink on Fridays this month.
In recognition of National Breast Cancer Awareness Month, employees are donning pink shirts once a week in October. The banks have collection jars set out so customers can donate money throughout the month. For each donation, customers are entered to win prizes, including an umbrella and a small decorative yard stone with pink ribbons.
Community National Bank employee Heather Tegtmeier said bank officials decided to start the drive after chatting with a representative from Navrat's, the bank's office supply provider.
The representative fundraises to help increase breast cancer awareness. Tegtmeier said it seemed a no-brainer to implement a similar drive in Tonganoxie and Basehor.
Donations from this month's drive will go to Back in the Swing USA, an Overland Park-based nonprofit organization that provides support to breast cancer survivors.
Art Hancock, public relations director at the Community National Bank Tonganoxie location, said Back in the Swing was a great organization that helps many cancer survivors.
"Everyone has a mother, an aunt, a friend who's had it," Hancock said.
Both bank locations will accept donations throughout October, with the bank providing a 100 percent matching donation to customers' total donation.
Tegtmeier and Hancock agreed $500 in customer donations was their goal for the bank's inaugural drive.
"If we can get more than that, that would be awesome," Tegtmeier said.
Back in the Swing, founded in 2000, offers support to breast cancer survivors. Survivors can experience health issues associated with treatment, such as cardiac problems, weight gain, sleeplessness and depression. Back in the Swing helps provide support for those dealing with these and other issues post-treatment.
For more about the organization, visit backintheswing.org.
To donate at Community National Bank, visit the Tonganoxie location, 231 N. Main, or the Basehor branch, 15718 Pinehurst Drive.