New parade plans highlight
THS

homecoming week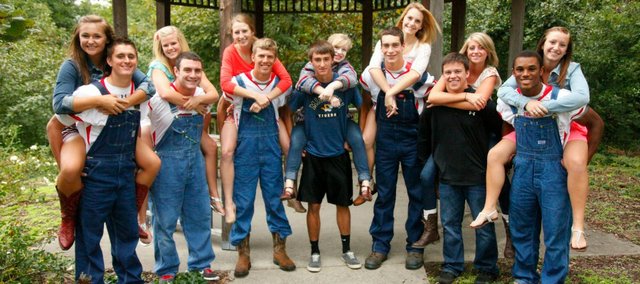 There's a new wrinkle planned for this year's Tonganoxie High School Homecoming Week — a slight reversal of previous tradition.
On Friday, which is Red/White Day, the homecoming parade will start at 2 p.m. and run through downtown Tonganoxie. The parade will make its way west on Fourth Street and then conclude before a pep rally starts at Fourth and Bury streets.
In the past, the parade has started and then paused for the pep rally.
The parade and pep rally will cap a week of Homecoming festivities. Dress-up days at THS already are under way: Monday was Genius Day, today is Disney Day, Wednesday is Wild Animal Day and Thursday is Thrift Shop Day.
A bonfire southwest of Beatty Field will start at 8:30 p.m. Wednesday.
The Tonganoxie USD 464 Education Foundation hall of fame reception will be 3-5 p.m. Friday at the Myers Hotel. A ceremony recognizing inductees will start at 4 p.m.
Homecoming royalty will be crowned before Friday's 7 p.m. football game against Turner at Beatty Field.
Homecoming king candidates are Tyler Ford, Cole Holloway, Ben Johnson, Shane Levy, Evan Stilgenbauer, Eric Tate and Joseph Wolf. Queen candidates are Halston Field, Haley Griffin, Marissa Martin, Taylar Morgan, Makayla Richert, Allison Thompson and Megan Zerrer.
The hall of fame ceremony will be at halftime of the game. This year's inductees are Phil Williams, Marvin Pine and the late Marie McDaniel. Jim Grinter is this year's alumni achievement award winner. Williams was a longtime teacher and coach at the high school, while Pine served as a teacher and coach and then principal at Tonganoxie Junior High School. McDaniel taught many years at Tonganoxie Elementary School.
Grinter, a 1954 THS graduate, is a longtime local farmer. He served on the first Tonganoxie USD 464 school board and was a founding member and is a benefactor of the USD 464 Education Foundation.
Homecoming week will finish up with events Saturday: The annual academic achievement banquet will start at 8 a.m. Saturday in Tonganoxie Middle School. Students who were in grades 3-7 last year who had exemplary scores on their state assessment tests will be recognized at the banquet. USD 464 Superintendent Randy Weseman will give the keynote speech.
The homecoming dance will take place 8:30-11 p.m. Saturday at the high school. The theme is "Party at Gatsby's."