Game notes:
THS

football vs. Turner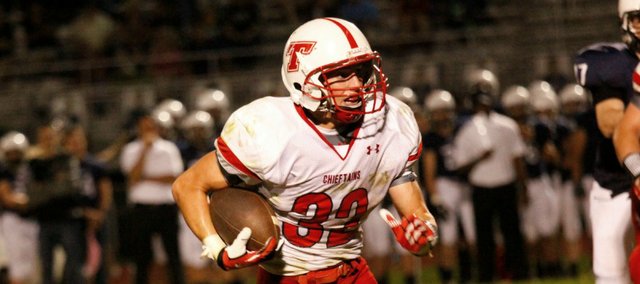 The Tonganoxie High football team will return Friday to Beatty Field for its homecoming game against Class 5A Turner. The Chieftains (4-1, 3-1 Kaw Valley League) are coming off a 55-6 rout of Bishop Ward, while the Golden Bears (1-4, 1-4) dropped a 49-13 decision last week at Basehor-Linwood. Turner handed Tonganoxie a 32-13 loss in last year's meeting in Kansas City, Kan.
Containing No. 16
Nearly all of Turner's offensive production this season has come from quarterback Paul Berry. The senior has thrown for 833 yards — second in the KVL only to Lansing's Krystian Abbott (1,678) and seven touchdowns. He's been equally as effective in the run game, racking up 351 yards and eight scores on 91 carries — all team-highs.
"We're more worried about him in busted plays," coach Al Troyer said. "A lot of times, he'll drop the snap, then take off and score. It's going to be tough to contain him running the ball and passing."
Senior Sirr Green has been Berry's favorite target this season, hauling in 46 catches for 546 yards and five touchdowns.
Berry gave the Chieftains fits in last year's meeting, throwing for 288 yards and two touchdowns while adding 88 yards and two more scores on the ground.
Sack master
Berry has been prone to mistakes this season — he's thrown eight interceptions through five games — and Chieftain defensive standouts James Grizzle and Jared Sommers could go a long way in forcing a few more mishaps this week.
Grizzle, a senior defensive end, has made a living in opposing teams' backfields, racking up eight sacks — four in last week's win at Ward. Meanwhile, Sommers, a junior defensive back, leads the team with three interceptions, including two last week.
As a team, the Chieftains have forced eight turnovers this season, including six picks.
Jack of all trades
Sommers has also made his presence felt on offense and special teams. He's run for two touchdowns in the team's "Wildcat" offensive package, caught a touchdown pass as a receiver and has established himself as one of the league's top return men. He is currently averaging 43 yards per kick return and 33.7 yards per punt return.
One game at a time
With five days of homecoming festivities preceding Friday's game and district play right around the corner, potential distractions have surrounded the Chieftains all week. Appropriately, the teem's word of the week is "focus," and Troyer said players have been able to keep their priorities in check throughout this week's practices.
"The kids have done a good job," he said. "They know we've got to taken it one at a time because, at any time or any moment, a loss is crucial. It's just one game at a time."
What's ahead
According to Troyer, a season is broken into three phases: league play, district play and postseason play. Friday's game will mark the end of phase one, as Perry-Lecompton will come to town next week. Troyer lauded his squad for the progress its made since a season-opening win against Lansing on Sept. 6.
"To come out with the opportunity to be 5-1 at the end of that, it's a great start," Troyer said. That would take us into district when Perry comes here, and they're a good team. But let's get through Turner first, then worry about that."
A win Friday would match last season's win total and give the Chieftains' their first 5-1 start since 2009.
Friendly confines
Travel won't be much of a concern for the Chieftains down the stretch, as they play three of their final four regular season games at Beatty Field. An Oct. 25 trip to Jeff West is the team's lone remaining road contest.
"(Our fans) travel well, but being at home is a great atmosphere," Troyer said. "It's going to be awesome to be here at home for three of those games, especially with two of them in district."
The Chieftains are 5-2 at home since Troyer took over in 2012. They currently own a five-game win streak on their own field, dating back to a 30-16 win against Bishop Ward on Sept. 28, 2012.