Five Questions: Making sense of the Affordable Care Act in Kansas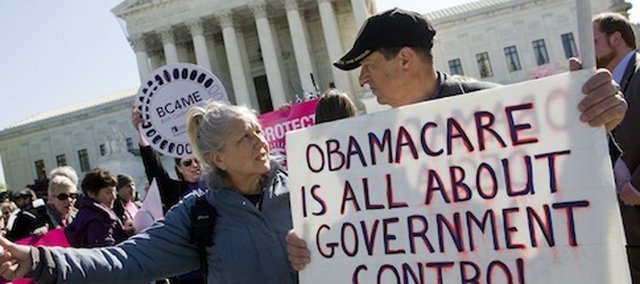 The Affordable Care Act, frequently referred to as "Obamacare," was passed into law on March 23, 2010. The law contains provisions to reform the health insurance industry, with the biggest changes occurring by Jan. 1, 2014.
Specifics of the law vary from state to state. This week's Five Questions looks at how Kansas stacks up, with answers provided by Kansas Insurance Commissioner Sandy Praeger.
Q: What major parts of the law are in effect right now?
A: Under most health insurance plans today, you can receive preventive services with no out-of-pocket costs; children with pre-existing conditions can't be turned down for coverage; insurance companies can no longer cancel your coverage just because you made an honest mistake; young adults up to age 26 can stay on their family health insurance; lifetime dollar limits on health benefits no longer exist; and insurers must give refunds to consumers if companies spend less than 80 or 85 percent of their premium dollars on medical care.
Q: What parts of the ACA will go into effect in 2014?
A: In 2014, the ACA requires insurance companies to provide coverage to anyone who applies — you can't be turned down because you have health problems. The premium you pay will be based only on your age, whether you use tobacco products, where you live, and whether you are buying insurance.
Q: Will I pay more for my health coverage because of the law?
A: The answer to this will vary from person to person. All people enrolled in a particular health plan share the costs associated with that plan. Since the ACA requires that nearly every adult purchase health insurance or pay a penalty, more people may be enrolling in coverage. If more individuals enroll in your plan, the costs will be spread among a larger group, and your costs could go down.
Q: How much control will I have over my health insurance choices in 2014?
A: If you currently buy your health insurance on your own (not through your employer), you will still be able to keep your current coverage, or you will be able to buy a different plan inside the exchange.
If you get your insurance through your employer, your employer may choose to keep the same health insurance coverage offered to you now, or the business may choose to offer coverage through the exchange. You may have a choice of more than one insurance plan to meet your needs.
Q: I want health insurance but I can't afford it. What can I do?
A: The law specifically assists people who have not been able to afford coverage in the past. Depending on your annual income, you may qualify for tax credits or subsidies to help pay for health insurance premiums and out-of-pocket costs. These will be available for people who have incomes up to 400 percent of the federal poverty level. In 2012, 400 percent of the FPL was $44,680 for an individual and $92,200 for a family of four. For more info, visit ksinsurance.org.