Game notes:
THS

football vs. Perry-Lecompton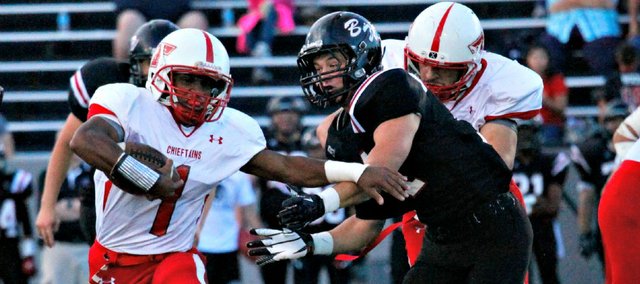 Tonganoxie High can take a big step in deciding its postseason fate Friday when it welcomes Perry-Lecompton to Beatty Field for the first game of Class 4A District 2 play. The Chieftains (5-1) enter the game after last week's 43-22 homecoming win against Turner, while the Kaws (3-3) defeated Royal Valley, 28-16. PLHS won last year's meeting, 30-0, but THS responded with back-to-back wins to claim the district title.
Rear view mirror
When THS traveled to Perry in 2012, mistakes and lost opportunities made the score more lopsided than the game itself — much like this season's 27-7 loss to Mill Valley. The Kaws led by just eight points at halftime, but capitalized on several Chieftain mishaps to pull away in the second half.
"The biggest thing in the game last year was we had 105 yards in penalties," coach Al Troyer said. "We moved the ball, but we didn't have any points on the board. We've got to take advantage of opportunities we get."
Troyer's squad gave up 423 yards of offense in the loss last season, but is giving up just 250.5 yards per game in 2013.
Ground and pound
Perry-Lecompton's Brandon Eddy gave THS fits in last year's meeting, rushing for 171 yards and three touchdowns. Eddy has been a force again this season, carrying the ball 102 times for 584 yards and six scores. He was at his best last week, going for 185 yards and three touchdowns.
The Kaws might need Eddy to put up similar numbers this week, as they could be without starting quarterback Seth Surface. Surface missed last week's game with an elbow injury and his status for this week is unknown.
"More or less, we're just playing assignment football," Troyer said. "We're not necessarily keying on (Eddy), but we know he's their threat. We're just trying to make him not run through the gap that he wants to run through."
Fullback RJ Whitaker is the team's second leading rusher with 276 yards and two scores on 58 carries. If Surface can't play, Mitchell Bond will likely get the start under center. Bond was 6-of-11 passing for 85 yards last week.
Stacking the box
Opposing ball carriers have had a tough time picking up yardage against the THS defense in 2013. Mill Valley quarterback Ty Bruce is the only player to eclipse the century mark against the Chieftains (101 yards on 29 carries) and is one of just five to run for more than 28 yards. Not including sacks, THS has 12 tackles for negative yardage this season. Shane Levy leads that category with three.
Milestone within reach
Chieftain senior Cole Holloway has racked up big numbers on the ground all year, and another big night Friday could put him over the 1,000-yard mark for the season. He's run the ball 125 times for 859 yards — an average of 6.87 yards per carry — and nine touchdowns. He ran for 635 yards and seven scores through his first six games as a junior and needed 14 more carries to do so (4.56 yards per carry).
In addition to averaging more than two more yards per carry, Holloway has benefitted from other players' increased offensive production. Fellow seniors Levy and Tyler Ford have both enjoyed big seasons in the running game, and nine total players have scored at least one offensive touchdown this season.
"The versatility in there this year has been awesome," Troyer said. "(Holloway) is making that on a lot less carries than he did a year ago."
Staying the course
The Chieftains weren't deterred by last week's homecoming festivities, but they faced a different potential distraction this week: a five-day weekend. Parent-teacher conferences this week meant THS was out of school Wednesday, Thursday and Friday. Players met Wednesday morning for weights have have followed a regular practice schedule throughout the week.
Turn back the clock
A win Friday would be the Chieftains' sixth of the season, surpassing the total from last year's 5-6 campaign. It would also be the team's highest win total since the 2006 team went 8-2 (8-1 regular season). THS won at least eight games every year from 2003 to 2006, but hasn't won more than five in any year since.
Other district action
Basehor-Linwood (2-4) will host Jeff West (5-1) in Friday's other district game. The Tigers defeated the Bobcats last season, 13-8, but both teams missed the playoffs.