State: Former Kansas
AG

Kline's law license suspended for misconduct
Topeka — The Kansas Supreme Court today indefinitely suspended the law license of former Kansas Attorney General Phill Kline following allegations of ethical misconduct during his investigation of abortion providers.
The court agreed with a state disciplinary panel that Kline repeatedly misled or allowed subordinates to mislead others, including a Kansas City-area grand jury, to further his investigations. The unanimous decision comes after repeated disputes between the Republican and his critics over his tactics.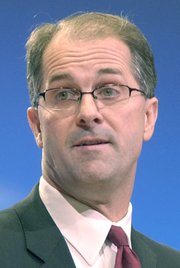 Justices said in their ruling that Kline committed "significant and numerous" violations as an attorney while pursuing prosecutions as attorney general and district attorney in Johnson County.
"Kline's inability or refusal to acknowledge or address their significance is particularly troubling in light of his service as the chief prosecuting attorney for this State and its most populous county," the court wrote.
In 2007, Kline filed 107 criminal charges against a Planned Parenthood clinic in the Kansas City suburbs, accusing it of performing illegal abortions and falsifying records. The last of those charges were dropped in August 2012. He also pursued misdemeanor criminal charges against Dr. George Tiller because of late-term abortions performed by his Wichita clinic. The case was dismissed for jurisdictional reasons.
Kline began the investigations of both providers just months into his 2003-2007 term as attorney general. The clinics resisted his attempts to get information from patients' medical records, but eventually the courts allowed him access to edited documents.
The disciplinary panel concluded that efforts by Kline and his aides to mislead other officials began early in the investigations.
Kline was Johnson County district attorney in 2007 and 2008. He is now a visiting professor at Liberty University in Virginia.