THS

girls second, boys third at

KVL

meet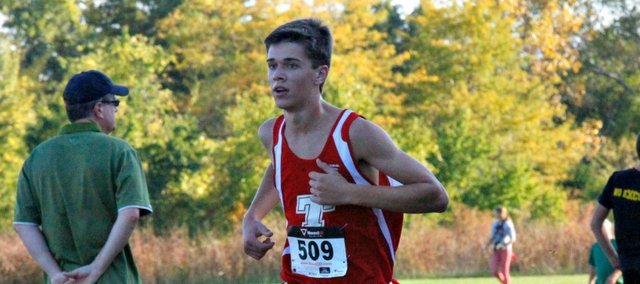 KVL team results
Girls
Mill Valley, 22
Tonganoxie, 67
Lansing, 94
Basehor-Linwood, 110
Turner, 121
Piper, 156
Bishop Ward, 184
Bonner Springs, 208
Boys
Mill Valley, 15
Basehor-Linwood, 66
Tonganoxie, 100
Lansing, 102
Turner, 137
Bonner Springs, 164
Piper, 166
Lansing — The Tonganoxie High cross country teams saw several members of next week's regional field Thursday at the Kaw Valley League meet. The Chieftain girls finished second and the boys third at Kenneth Bernard Park.
For the fourth meet in a row, Tressa Walker earned a top-10 individual finish to pace the THS girls, coming in eighth with a time of 16:57.72. She was the only Chieftain in the top 10, but was joined in the top 15 by Isabella Behm (12th, 17:22.3) and Emily Chambers (14th, 17:34.8).
Sophia Wetta (17:42.17), Emily Williams (17:44.61) and Nicole Zerrer (17:46.67) occupied spots 16-18 and Kourtni Freemyer (19:04.92) came in 29th.
The Chieftains finished with 67 team points, leaving them 45 behind champion Mill Valley. Fourth-place finisher Basehor-Linwood (110) was the next highest among Class 4A teams.
Drew Cook led the THS boys with a 16th-place time of 18:12.76. Brad Andrews (18:26.05) and Garrett French (18:31.2) weren't far behind, coming in 18th and 19th, respectively.
Ethan Phillips (23rd, 18:49.58) and Andrew Behm (24th, 18:52.83) wrapped up team scoring, while Dylan Staatz (19:01.62) finished 26th and Jake Tollefson (20:21.14) 36th.
The boys finished with 100 points, coming in behind Mill Valley (15) and Basehor-Linwood (66).
Both Chieftain teams will join their 4A league foes Saturday at a regional meet at Wyandotte County Park in Bonner Springs.
More like this story