THS

soccer gets revenge on Cyclones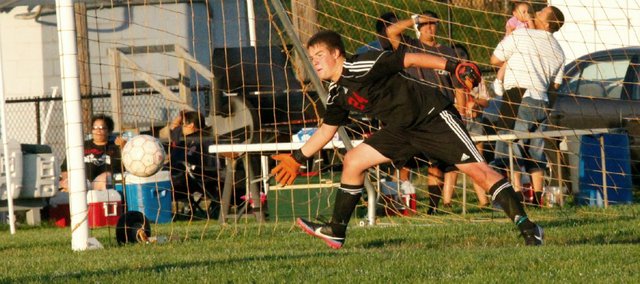 One week after falling to Bishop Ward in double overtime, the Tonganoxie High soccer team got revenge in equally thrilling fashion.
THS avenged last week's loss with a 2-1 victory Thursday at Chieftain Park. Despite playing a man down for most of the second half, the Chieftains (5-9) came up with just enough offense and got some second-half heroics from their goalkeeper to win their second straight game.
The Chieftains entered the second half with a 1-0 lead, but the Cyclones tied things up in the opening minutes of the period. THS suffered another blow a few minutes later when Tyler Novotney received a red card for sliding into a player with his cleats up, and the team had to play with 10 players the rest of the way.
Playing down a man didn't faze the Chieftains, as they regained the lead shortly after the incident. Garrett Martin crossed a ball to Asher Huseman just in front of the Ward goal, and Huseman's shot attempt ricocheted off the goalkeeper. Huseman followed the ball and punched it in for his 12th score of the season.
"For whatever reason, something just sparked us," coach Brian Kroll said. "We came together and played as a team. We were kind of sloppy in the first half and Ward was playing pretty good, disciplined soccer."
About five minutes after Huseman's go-ahead score, the Cyclones got the chance to tie when a player was fouled in the box. THS goalkeeper Alex Kroll knocked down the penalty kick and blocked a second shot off the ricochet, giving the Chieftains a chance to clear the ball.
"It was a left-footed kicker, which always makes things difficult," Brian Kroll said. "(Alex) read the foot, read the placement and went the right way."
Alex Kroll finished the game with 15 saves.
The teams traded possession the rest of the way, but THS hung on to give itself consecutive wins for the first time this season.
The first half unfolded into a back-and-forth affair until the Chieftains got a chance midway through the period. Ben Edmonds corralled a pass from the sideline, and his shot deflected off a defender and into the net. Neither team scored again before the break.
THS will wrap up its regular season schedule next week with a pair of home games. It will welcome Kaw Valley League opponent Piper to town at 5 p.m. Wednesday for a make-up of a Sept. 19 rainout, then host Leavenworth-Immaculata on Thursday for senior night.