SPOOKY

BEHAVIOR

: Annual trick-or-treat event Friday; other events set for Saturday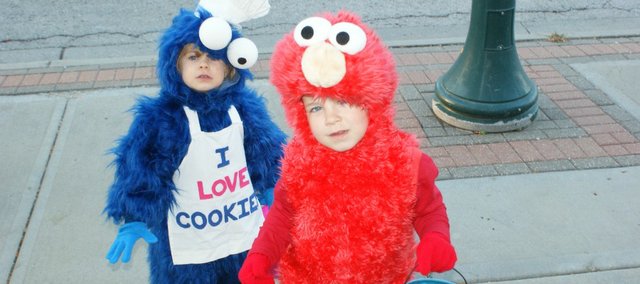 Trick-or-treaters will be flooding Fourth Street on Friday in downtown Tonganoxie.
The annual Spooktacular will be 6-8 p.m. with several businesses offering candy to costumed children.
Businesses and organizations not based downtown also are encouraged to hand out candy in the downtown area.
Tonganoxie Elementary School again will offer indoor trick-or-treating in some of its classrooms. TES principal Tammie George said volunteers plan to offer treats from 6-8 p.m. at the school, but noted they ran out of candy about 7:40 p.m. last year.
A few organizations so far are planning to be in the downtown area for Spooktacular.
American Legion Women's Auxiliary Post 41 will have a "stuff the truck" drive for which members will be accepting gloves, mittens, hats, scarves, coats and boots to give to those in need. Look for the designated truck Friday night to drop off donations. Items also can be dropped off during the week at Evans Real Estate and both First State Bank and Trust locations in Tonganoxie.
The Tonganoxie Motorcycle Association will be selling hot dogs, coffee and hot tea during the event as a fundraiser in the courtyard area just west of Richard Dean's optometry office in the 400 block of Fourth Street.
The group generally meets for rides on Friday nights, weather permitting.
The Tonganoxie City Fire Department also plans to participate in the event by handing out candy near Fourth and Main streets
H Avenue has offered a haunted house during previous Spooktaculars at its downtown location, but this year the business is partnering with Tonganoxie VFW Post 9271 and others to have the haunted house at the post home, 910 East First St.
Admission is $2 and the venue will be open 6-10 p.m. Friday and 6-11 p.m. Saturday to people of all ages. Organizers recommend that youths 12 and younger be accompanied by an adult.
Proceeds will go to VFW charities.
McLouth hayrides Saturday
The McLouth Threshing Bee Grounds will be the site for some scary fun one more weekend.
The Threshers Lair Haunted Hayride will take place 7-10 p.m. this Saturday at the threshing bee grounds in McLouth.
Cost is $7 for adults and some youths. Cost is $5 for children ages 6 and younger.