Tonganoxie Elementary School project moving forward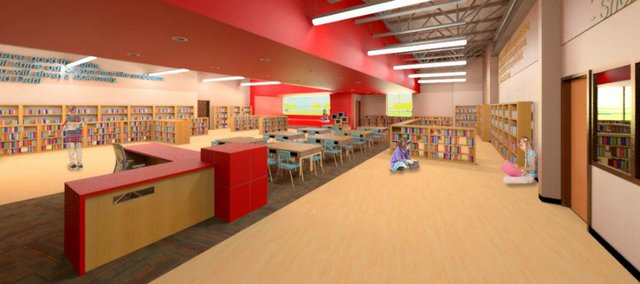 Tonganoxie Elementary School students and local officials turned dirt last week for a ceremonial groundbreaking at the new elementary school site just southeast of Tonganoxie Middle School.
Residents will see much more work done in the coming weeks at the site, according to Tonganoxie USD 464 Superintendent Randy Weseman.
"Right now, later this week, they're prepping it," Weseman said about construction crews working on the job site. "What you'll see right now is the preparation for the (concrete) footings, that kind of stuff."
The footings are expected to be in place before winter sets in, but work will continue through those months.
"They'll be working all winter," Weseman said. "You'll see something changing on a daily basis."
Weseman said that it's hoped some of the winter construction would include steel work for the structure.
The Tonganoxie City Council also approved a replat for the school and traffic improvements that include a right-turn lane at Washington and East streets and limited access/usage road near 12th Street and Delaware Drive. The gated road will be used for buses and other emergency vehicles to help alleviate traffic congestion.
Weseman said that work, which will be funded through the bond and other contingency money, likely will take place next spring or summer.
"I think the process worked very well," Weseman said about the replat and working with the city's planning commission and City Council. "There were some issues we had to work through, but all said and done, the plat approval was unanimous by the city (council) and we're pleased with that."
Weseman praised City Administrator Nathan McCommon for facilitating communication between the city and school district.
"In my career, it was one of the more efficient streamlined and, frankly, pleasant processes I've been in in a while," he said.
Voters nearly a year ago approved a $27.2 million bond issue for a new elementary school. State aid will contribute about $9.3 million.
Board approves contracts, resignations
Tonganoxie USD 464 school board approved resignations and contracts at its Oct. 14 board meeting.
Sue Maurer, regular route bus driver, and Chris Weller, high school girls track coach, resigned their positions.
Contracts were approved for Mary Jo Bartels, part-time business office clerk; Mary Bowman, van driver (replacing Linda Waterbury); Stacy Bradley, regular route bus driver (transferring from van route to replace
Sue Maurer); Patty Choate, van driver (replacing Stacy Bradley's van route); Barb Easter, part-time district office support; Heather Shoemaker, high school baker/cashier; and Amber York, Tonganoxie Middle School Science Olympiad (additional position added at TMS as result of negotiations).