Tonganoxie
USD

464 students recognized for test scores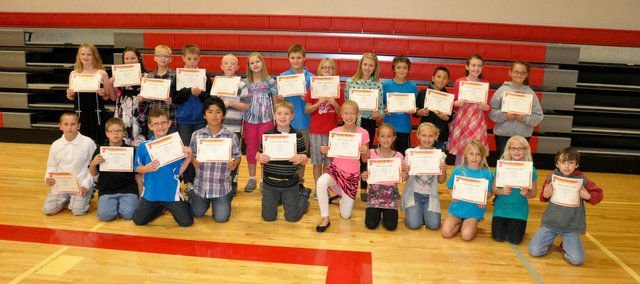 Tonganoxie USD 464 students were recognized Oct. 12 during a breakfast at Tonganoxie Middle School for their exemplary scores in last year's State Assessment Tests. USD 464 Superintendent Randy Weseman gave an address at the event.
The reception was part of homecoming festivities. The event has taken place in conjunction with Tonganoxie USD 464 Education Foundation Hall of Fame ceremonies the last few years during Tonganoxie High School Homecoming Week.
Here is a list of students honored during the ceremony, by grade:
Fourth grade
Augustus Bachelor, Brayden Bennett, Riley Bichelmeyer, Marie Brockhoff, Alexander Crenshaw, Mason Davenport, Rebekah Farrow, Joseph Fletcher, Mayden Geiger, Hayden Hannigan, Tori Keagle, Mason Khanthaboury, Cuyler Kietzmann, Jordan Knipp, Brooklyn Lang, Jonathan Long, Jackson Lynn, Benjamin Manus, Daylen Novotney, Sydney Padfield, Julia Perich, Caden Phillips, Indiana Renne, Mikayla Rhoads, Colin Robinson, Elizabeth Scheilz, Ella Scott, Raegan Seba, Mason Shriner, Kaitlyn Skinner, Benjamin Suber, Owen Welsh, Joseph Wenger, Halle Westbrook, Riley Widhalm, Andrew Willson, Brayden Wilson, Jesse Young and Daniel Zesati
Fifth grade
Meghan Agnew, Sadie Atchison, Ashtin Barnes, Eddie Barrios, Afton Boone, Aidan Boone, Morgan Brusven, Tessa Calovich, Dakota Coates, Dominick Colacicco, Robert Conroy, Haley Crable, Kiernyn Dale, Cadence Dare, Sybil Donohue, Francesca Downing, Jack Duvall, Franklin Eason, Angeleise Foley, Declan Franey, William Geiger, Charles Gilmore, Levi Hannigan, Daniel Harnden, Cooper Harris, Harlei Hendrix, Meghan Heskett, Lauryn Jimenez, Dakota Keagle, Audrey Keltner, Keaton Klamm, Brynna Ladesic, Cora Lanza, Joseph Laundy, Madison Linder, Judith Lollis-Juethner, Samuel Manus, Carolyn Mast, Trent McCullough, Destiny Munoz, Amari Perry, Rylie Putthoff, Emma Rawlings, Kylie Packard, Trace Trieb, Bayla Turner, Theona Vaughn, Autumn Warrington, Dajarrio White and David Yunghans.
Sixth grade
Colby Atchison, Cameron Babcock, Halie Baldwin, Anja Bartels, Isabelle Bassler, Madelynn Bell, Ryan Black, Halie Baldwin, Nathan Blancarte, Damon Blauvelt, Ellie Braun, Jordan Bridges, Hayden Calovich, Kyle Chambers, Brooke Claypool, Cadence Cole, Cooper Cunningham, Isaac Daschke, Jakob Edholm, Anna Edmonds, Allison Fosdick, Dean Foster, Erin Gallagher, Dylan Graham, Lauren Gray, Baylee Grindstaff, William Harris, Alexandria Hartpence, Hayden Hayward, Keegen Henricks, Demi Hull, Austin Hurla, Kaleigh Keeton, Kaitlyn Kessler, Merkaia Khnathaboury, Shane Lewis, Payton Lynn, Joleigh Meier, Alison Miller, Rebekah Miller, Nicholas Monteil, Aspen Moritz, Peyton Parker, Kristian Perez, Marian Pray, Jeffrey Ramseier, EmilyRose Rausch, Bryn Reed, Logan Reed, Dustin Rhoads, Cole Sample, Alexandria Santos, Cole Schuck, Connor Searcy, Tabor Sittner, Colby Smith, Carmen Snyder, Allyson Sparks, Nathan Vandervoort, Lukas Vannattan, Jacob Widhalm, Zane Willburn, Jayden Wilson, Reese Wood, Caeden Woods, Peyton Woods and Andrea Zesati.
Seventh grade
Cole Addie, Alexander Antle, Mason Armstrong, Bryce Atchison, Juliana Ballard, Ethan Basler, Desmond Battle, Jacob Boone, Jared Bothwell, Christopher Botkin, Bailey Bradley, Jacob Claypool, Salem Clemens, Logan Coy, Adam DeMaranville, Elliott Chase, Falk Alexander, Jakob Foley, Madison Ford, Ahren Gann, Kaleb Goldbeck, Sommer Gratton, MiKayla Hennigh, Laura Heskett, Ariel Jacobs, Marisa Kearns, Emmett Keene, Shawna Kirk, Meagan Laster, Brooklin Maas, Megan Martinez, Jacob Miller, Calvin Morgan, Avery Moritz, Blake Phillips, Brandy Riker, Henry Robinson, Sofia Romero, Brenn Shryock, Mathia Slinkard, Gage Sommer, Delaney Spellman, Noah Stanwix, Simon Stevens, Aubrelyne Swegle, Alexander Tucker, Phillip Vaughn, Miriah Vestal, Garrett Williams, Emma Wogomon and Harrison York.
Eighth grade
Colton Aaron, Brittany Ancil, Joseph Angle, Mason Beach, Brenna Bigge, Austin Blauvelt, James Breedlove, Ashley Bridges, Jospeh Caiharr, Chandler Caldwell, Makayla Callaghan, Erin Colacicco, Gabrielle Crockett, Courtney Curickshank, Mariah Dohle, Dyson Felty, Keegan Frazier, Isaiah Frese, Grayson Gilbert, Tyler Griffith, Chandler Hamman, Maria Howard, Mya Hurley, Gad Huseman, Zeb Huseman, Summer Keagle, Kylie Kimrey, Samantha Knipp, Hannah Kobe, Chloe Langford, Tyler Logan, Kaylee Lowe, Shelby Lynne, Katherine Malone, Kayden McCrary, Audrey Miller, Jose Monarrez, Zac Morgan, Eric Neas, Joshua Owens, Cameron Renne, Cody Reynolds, Ethan Sandburg, Alyssa Scott, Caden Searcy, Gunnar Shoemaker, Samuel Sigourney, Aubry Sittner, Nick Skinner, Gage Smith, Kaley Somers, Sierra Staatz, Robert Stone, Devin Stuart, Tanner Walden, Grace Warrington, Megan White, Allison Williams, Erin Williams, Jackson Willis, Lauren Willson and Brea Wingerter.