THS

volleyball can't close at Bonner Springs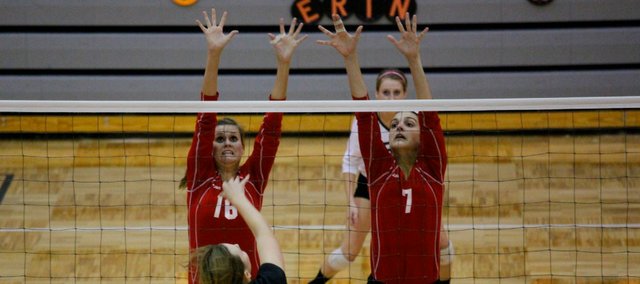 Bonner Springs — For the better part of three sets, it looked like the Tonganoxie High volleyball team would end its regular season with a win Tuesday at Bonner Springs. But, with just point separating them from a sweep, the Chieftains came unraveled.
THS couldn't capitalize on its 2-0 lead as the Braves came back to win in five sets, 18-25, 21-25, 26-24, 25-22, 15-11.
"Bonner has come a long way, and they played really well," coach Tiffany Parker said. "I've got to give them credit. They've had about the same kind of season we have. It just says a lot for their character to work really hard."
After winning the first two sets, the Chieftains (13-23, 1-6 Kaw Valley League) carved out an 11-8 lead in the third. Bonner Springs answered with a 7-1 run to go in front, 14-12, but THS regained its composure and battled back to force a 21-21 tie. It scored the next three points, putting itself in position for a sweep, but the Braves scored five unanswered to force a fourth set.
A power struggle ensued in the fourth, as THS clung to a 19-18 lead late in the set. Another late surge gave BSHS the edge, as it scored six of the next seven and held on to even the match at two sets apiece.
The Braves carried that momentum over into the final set, working their way out to a 12-6 lead. The Chieftains used a 5-2 run to get within three, but Bonner Springs slammed the door one point later.
Results aside, Parker praised several players for their efforts. Marissa Martin had another big night with 42 digs, while Minear and Morgan Oroke led the team with 15 and nine kills, respectively.
Parker's squad will have three days to regroup before it welcomes Basehor-Linwood (22-15), Piper (20-15) and Sumner Academy (18-16) to town Saturday for a Class 4A-1 sub-state tournament. THS is the fourth seed and will play top-seeded BLHS at 2 p.m.
"We're going to work really hard in the next three days of just taking a chance and going for it," Parker said. "All we've got to do is win two matches on Saturday, so we're going to concentrate on playing well."