Game notes:
THS

football at Jeff West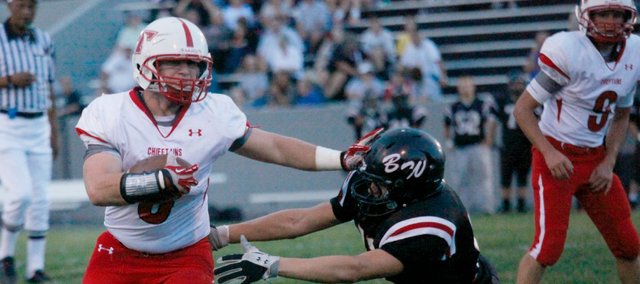 One week ago, the Tonganoxie High football team took a big step toward a return to the playoffs. Friday night, the Chieftains can punch their ticket.
THS (6-1, 1-0 Class 4A District 2) can put itself in the driver's seat when it travels to Meriden to take on Jeff West (6-1, 1-0). Both teams won their district openers last week, and a win Friday would put either team in position for a district title.
How they got here
THS and Jeff West got to 1-0 in district play last week, but did so in very different fashions. Tonganoxie cruised to a 37-8 victory against Perry-Lecompton, while Jeff West eked out a 36-35 win in overtime at Basehor-Linwood.
The Chieftains' only loss this season came in a 27-7 defeat Sept. 27 at Class 5A Mill Valley, while the Tigers' only blemish is a 40-20 loss Oct. 11 at home against defending 4A state champion Holton.
Similar stories
Both squads have experienced plenty of success after winning five games a year ago. They've done so by relying on large senior classes, who have accounted for nearly all of their respective offensive production. Additionally, each team's lone loss has been to a premier opponent.
Last year's meeting ultimately decided the district champion, and it's likely this week's game will do the same.
"We've known coming into this year that this would be the game," THS coach Al Troyer said. "We had a bunch of seniors coming back and they had a bunch of seniors coming back. We'd kind of pinpointed this game as the one that would be for the district title."
Looking back
Jeff West came to Beatty Field last year with a chance to go to 2-0 in district play and knock THS out of playoff contention, but the Chieftains made some noise with a 9-7 victory, forcing a four-way tie in the district.
The THS defense stopped JWHS less than a yard short of the goal line on the final play of the first half, then came up with three stops in the fourth quarter to preserve the win.
"They came in here (last year) and didn't expect to get beat," Troyer said. "They played well enough to win, but just made some mistakes that kept them from getting in the end zone."
One week later, THS clinched the district title with a win at Basehor-Linwood, and the Tigers claimed the second playoff spot with a home win against Perry-Lecompton.
Any which way
A defensive struggle seems less likely in Friday's rematch, as both offenses are putting up much bigger numbers in 2013. The Chieftains are averaging 38.4 points per game Tigers 28.6. Between the two teams, 17 players have scored at least one offensive touchdown this season.
JWHS quarterback Ian Mullins has been the team's biggest offensive threat. He's thrown for 1,077 yards and 11 touchdowns and leads the team with 608 rushing yards and 10 scores. His favorite receiving targets have been Drew Slimmer (18 catches, 366 yards, five touchdowns) and Brett Ricklefs (17 catches, 430 yards, six touchdowns). Meanwhile, Wyatt Miller has complemented Mullins' rushing numbers with 444 yards and two touchdowns.
As a team, the Tigers are averaging 162.3 rushing yards and 159.6 passing yards a game.
"They're very well-balanced like we are," Troyer said. "Hopefully it doesn't become a score-fest. It's going to come down to who wants it the most. I think it's going to be a great game."
Troyer's squad will counter with an offense putting up better than 400 yards per contest. Quarterback Tyler Ford has thrown for 730 yards and 10 touchdowns while running for 516 yards and six scores. Ben Johnson (nine catches, 231 yards, three touchdowns), Maleak Gibson (nine catches, 135 yards, four touchdowns) and Shane Levy (16 catches, 129 yards) have been the team's top receiving threats.
Running back Cole Holloway went over the 1,000-yard mark for the second season in a row last week. He leads the team with 1,035 yards and 10 touchdowns, and Levy has added 452 yards and seven scores. The Chieftains have run for more than 300 yards in five games this season.
Hostile environment
Friday's trip to Meriden will mark Tonganoxie's first road game since its game Oct. 4 to Bishop Ward. Jeff West is 7-1 at home since the start of last season, including a 2-1 mark this year. Meanwhile, the Chieftains are 4-5 on the road games since 2012 (2-1 this year).
THS hasn't been tested in a close game yet this season, as each of its first seven contests were decided by at least 16 points. The Tigers have been in several close contests, though, as four of their games were decided by seven points or less. They are 4-0 in one-score games.
"The biggest thing we want to do is play well and be in a position to win the fourth quarter," Troyer said. "Other than one game, we haven't really been in a game in the fourth quarter. We'd like that to be the same, but we also want to be tested before we go into some heavier games."
Other district action
Perry-Lecompton (3-4, 0-1) and Basehor-Linwood (2-5, 0-1) will both try to avoid playoff elimination when they face off Friday at PLHS. The Bobcats won last year's meeting at home, 29-14.