THS

soccer blows by Raiders on senior night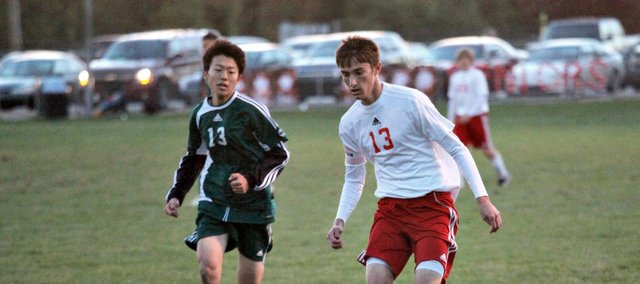 THS 6, Immaculata 2
First half scoring
Asher Huseman (TON), 34:13
Evan Stilgenbauer (TON), 33:58
Stilgenbauer (TON), 32:51
Huseman (TON), 30:22
Second half scoring
Mark Hernandez (IMA), 26:58
Hernandez (IMA), 7:40
Jay Willcutt (TON), 4:21
Dylan Olson (TON), 2:19
On a night when temperatures reached near-freezing levels at Chieftain Park, the Tonganoxie High soccer team came out red hot.
THS scored four goals in the first 10 minutes of the game, propelling itself to a 6-2 win against Leavenworth-Immaculata on senior night.
The Chieftains (6-10) nearly got on the scoreboard in the opening minutes when Brett Bolon had a shot blocked from the right side of the field, then Ben Edmonds just missed with 34:35 left, but Asher Huseman put THS in front off a pass from Bolon less than 30 second later. Evan Stilgenbauer made it 2-0 just 15 seconds later when he scored on a pass from Huseman right in front of the net.
Stilgenbauer, a two-year captain, scored again on a long shot, which just cleared the outstretched hands of goalkeeper Phillip Hernandez with 32:51 remaining. Huseman then gave the Chieftains a four-goal advantage when he broke free down the middle of the field with 30:22 left.
"When things come together and they do the things they're supposed to do, it's amazing what can happen," coach Brian Kroll said. "That's what I told them. When you start to communicate, have faith and believe in your teammates, that's what happens."
Immaculata nearly scored on a corner kick after Stilgenbauer's second goal, but keeper Thomas Fox knocked down the shot attempt, giving the defense a chance to clear the ball. Mark Hernandez about got the Raiders on the scoreboard on three separate occasions midway through the half, but he had two shots bounce off the post and another sail just wide of the goal.
Neither team scored again in the period, as THS took its 4-0 lead into the break.
Hernandez broke up the shutout with a goal similar to Stilgenbauer's with 26:58 left in the second half, then split a pair of defenders and scored to get the Raiders within two with 7:40 remaining. However, the Chieftains answered with goals by Jay Willcutt and Dylan Olson in the final minutes.
The win was third in four games for THS. Seniors Stilgenbauer, Olson, Bolon, Fox, Edmonds, Tyler Wehmeyer, Nathaniel Laundy and Josh Littlefield were recognized in a ceremony before the start of the game.
"Any way it goes, when it's a senior, it's kind of bittersweet," Kroll said. "Even if they haven't contributed to the varsity level, they're contributing. The fact that they're there every day, busting their butts to get better, it reminds those guys that are in those spots that they'd better be on their A-game. That's their perseverance, and it pays off."
Kroll's squad will now await its regional seed, which it will learn Saturday when brackets are released by the Kansas State High School Activities Association.