Volleyball seniors could earn state bid in final home action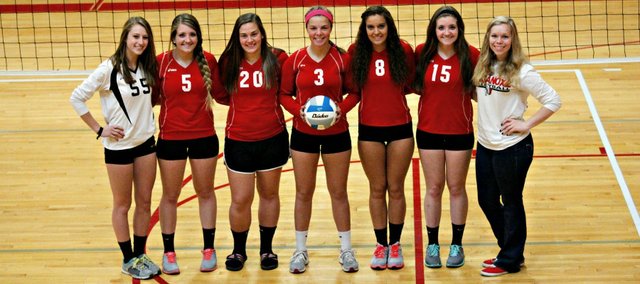 When the Tonganoxie High volleyball team hosted Bishop Ward last week for senior night, the Chieftains weren't able to send their seven seniors home with a win. However, THS will play on its home floor again Saturday, and a victory this time would provide more than just a happy memory.
For the second consecutive year, THS was selected as a host site for a sub-state tournament. It will welcome Basehor-Linwood, Piper and Sumner Academy to town for a four-team, single-elimination tournament — a new format resulting from the Class 4A split.
A pair of wins would send the Chieftains to the state tournament Nov. 1-2 in Salina, extending the final high school season of Marissa Martin, Kaylin Nelson, Leah Miller, Morgan Oroke, Kara Banks, Kinsey Nelson and manager Erin Meador.
THS nearly punched its state ticket a year ago, reaching the finals as the No. 5 seed before falling to BLHS in straight sets.
"We knew we were super close," said Martin, one of two regular starters back from last year's varsity squad, alongside sophomore Lauren Jackson. "The team we have this year, we're pretty scrappy. I think that'll really help with the sub-state setup we have. I think we'll have a really good shot."
The Chieftains (13-23) wrapped up their regular season Tuesday with a five-set loss at Bonner Springs. They split a triangular Monday at Perry-Lecompton, defeating Bishop Seabury Academy and falling to host school PLHS.
Saturday's sub-state field doesn't include any unfamiliar opponents, as THS has played each school at least once. It was swept by Basehor-Linwood Sept. 17 at home, lost two meetings with Piper — one in three sets Sept. 28 at the Tonganoxie Invitational and another in straight sets Oct. 8 at Piper — and swept Sumner at a triangular Oct. 7 at Washington.
"I think we know what they're teams are like and what they can do," Miller said. "I think we sometimes play down and we don't compete as well as we can. We just need to go in and play our game."
All four schools were in the Tonganoxie sub-state field last season as well. Sumner fell to Bonner Springs in the first round, and Piper dropped its opener to Eudora.
THS is the fourth seed and will play top-seeded BLHS (22-15) at 2 p.m. A match between No. 2 Piper (20-15) and No. 3 Sumner (18-16) will immediately follow.
"We're going to work really hard in the next three days of just taking a chance and going for it," coach Tiffany Parker said after Tuesday's match. "All we've got to do is win two matches on Saturday, so we're going to concentrate on playing well."