THS

survives in instant classic at Jeff West
Chieftains now 2-0 in district play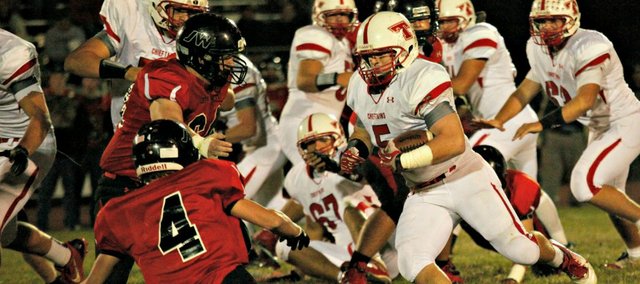 District standings
School, Record (Points)
Tonganoxie, 2-0 (+22)
Basehor-Linwood, 1-1 (+20)
Jeff West, 1-1 (0)
Perry-Lecompton, 0-2 (-42)
Meriden — The day before Tonganoxie High traveled to Jeff West for a pivotal district matchup, THS coach Al Troyer said his team needed to be challenged in the fourth quarter. The Tigers provided a test worthy of Harvard admission Friday night, and the Chieftains passed with flying colors.
THS trailed 20-0 in the first half and 27-14 early in the second, but roared back for a 34-33 victory.
"Our word for the work was 'teamwork,' and you can't find a better example than what happened (Friday) night," Troyer said. "To come back and take the lead, the heart of these kids in unbelievable."
The Chieftains (7-1, 2-0 Class 4A District 2) managed just 84 first-half yards against the Tigers (6-2, 1-1), but finished with 306 in the come-from-behind win, which puts them in position for a second straight district title.
The teams traded scores to open the second half, and Jeff West held a 27-14 lead midway through the third quarter. THS quarterback Tyler Ford then engineered three consecutive scoring drives, throwing touchdown passes to Carl Hecht and Jared Sommers and running in another score from five yards out. Ford's rushing score gave the Chieftains a 34-27 advantage with 3:20 remaining in the game.
The Chieftain defense, which struggled mightily against the pass in the first half, came up with a pair of stops during the rally. It forced a turnover-on-downs after Hecht's touchdown catch, then Shane Levy came up with his second interception of the day following Sommers' go-ahead score.
"We didn't lose our composure in the fourth quarter," said Levy, who also had a team-high 79 rushing yards and a touchdown on offense. "That's what our coaching staff teaches. We didn't hang our heads. Everyone played great."
Eric Tate missed the extra point attempt after Ford's rushing touchdown, keeping the difference at seven points in the final minutes. The Tigers got into the red zone on the ensuing drive and, with the help of a roughing-the-passer call, got a first-and-goal situation at the four-yard line. Quarterback Ian Mullins ran the ball twice for short gains, then threw a three-yard lob to Alex Broers to make it a one-point game with 40 seconds remaining.
JWHS elected to go for two, and a swarm of Chieftains stuffed running back Wyatt Miller at the one-yard line. In perhaps a fitting ending, Levy recovered the ensuing onside kick, and the celebration began.
Jeff West set the tone early when a Ford pass was tipped and intercepted by Branson Vaught on the first play of the game. The Tiger offense used that momentum and took a 20-0 lead on three touchdown passes from Mullins to Drew Slimmer.
It looked as though JWHS would tack on more points before the half, but Levy picked off a Mullins pass near midfield with less than three minutes left before the break. THS capitalized when Ford hit Ben Johnson for an 11-yard score with 47 seconds remaining, giving the Chieftains some life going into the locker room.
"That was huge to go in down 13 instead of 20," Troyer said. "Our kids weren't going to die. They weren't going to let it happen. When you have this much senior leadership, you've got a bunch of generals out there, and they wanted it hard."
THS managed just 84 first-half yards to Jeff West's 152, but ended up outgaining the Tigers, 306-304. Ford made JWHS pay through the air — especially in the second half — going 9-of-16 for 164 yards and three scores. Mullins was equally as effective for the Tigers, going 12-of-20 for 189 and four touchdowns. He also led the team in rushing with 80 yards and a score on 18 carries.
The Chieftains can clinch the district outright with a senior-night win Thursday against rival Basehor-Linwood (3-5, 1-1). The Bobcats staved off elimination with a 37-16 win Friday at Perry-Lecompton.
"Basehor-Tongie is not something that's hard to get both clubs up for," Troyer said. "There's a little bit of an advantage with us being at home, so we're going to use that. We're going to fight to be the (district) winner."
Score by quarters
THS 0 7 14 13 — 34
JWHS 13 7 7 6 — 33
First quarter
JWHS — Drew Slimmer 15 pass from Ian Mullins (Luke Herring kick), 9:53
JWHS — Slimmer 16 pass from Mullins (kick failed), :57
Second quarter
JWHS — Slimmer 16 pass from Mullins (Herring kick), 4:18
THS — Ben Johnson 11 pass from Tyler Ford (Eric Tate kick), :47
Third quarter
THS — Shane Levy 39 run (Tate kick), 10:29
JWHS — Mullins 36 run (Herring kick), 6:26
THS — Carl Hecht 52 pass from Ford (Tate kick), 5:40
Fourth quarter
THS — Jared Sommers 10 pass from Ford (Tate kick), 7:29
THS — Ford 5 run (kick failed), 3:20
JWHS — Alex Broers 3 pass from Mullins (run failed), :40
Rushing
THS: Shane Levy 18-79, Cole Holloway 13-32, Tyler Ford 11-31; JWHS: Ian Mullins 18-80, Wyatt Miller 11-18, Josh Becker 2-16, Luke Herring 1-1.
Passing
THS: Ford 9-16-1 164; JWHS: Mullins 12-20-2 189.
Receiving
THS: Carl Hecht 1-52, Jared Sommers 4-50, Ben Johnson 2-44, Wyatt Weeks 1-13, Eric Tate 1-5; JWHS: Drew Slimmer 4-59, Miller 2-50, Alex Broers 2-42, Bret Ricklefs 3-31, Becker 1-7.