Chambers qualifies for state cross country
THS

girls fourth, boys fifth at regionals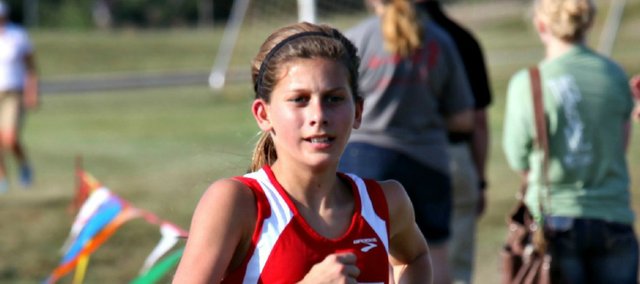 For the second year in a row, a Tonganoxie High freshman will be the Chieftains' lone representative at the state cross country meet.
Emily Chambers was the only THS runner to make the cut, finishing 15th individually at a Class 4A regional Saturday at Wyandotte County Park. The top five runners not on state qualifying teams also earn a spot at state, and Chambers was fifth on that list with a time of 16:42.21.
"I was really excited, but I was kind of sad that my whole team wasn't going," Chambers said.
The Chieftain girls just missed qualifying in the team ranks, coming in fourth with 96 points — six behind third-place finisher Topeka-Hayden. The top six THS finishers cross the finish line less than 29 seconds apart, but it wasn't quite enough to beat the Wildcats or second-place Eudora (88).
"I thought that our pack running was outstanding," coach John Tollefson said. "If we could have just pushed a couple places higher, that would have made all the difference. Eudora had a couple really good freshmen that came in and surprised us a little bit."
De Soto easily won the team title, posting five top-10 finishes for a team score of 26.
Isabella Behm (16:44.51) just missed joining Chambers as a state qualifier, coming in 16th. The pair of freshmen were the only Chieftains to finish in the top 20. Nicole Zerrer (21st, 16:53.8), Emily Williams (24th, 17:02.97) and Sophia Wetta (25th, 17:05.76) rounded out team scoring, and Tressa Walker (26th, 17:11.04) and Kourtni Freemyer (68th, 19:17.23) also ran at the meet.
Chambers is preparing for state this week alongside several of her teammates, including Wetta, who qualified last year as a freshman.
"It makes me feel better. It makes me not as nervous as I would be just by myself," Chambers said. "(Wetta) has been able to tell me stuff about it, like it's not as scary as you think it will be. When your teammates are there, it helps a lot."
The 4A state meet will take place Saturday at Wamego Country Club. The girls race is set for noon.
The THS boys failed to qualify anyone for state, but improved on last year's regional performance with a fifth-place finish. The Chieftains finished with 138 team points. Wamego (55), De Soto (56) and Basehor-Linwood (89) qualified in the team ranks.
Brad Andrews led the charge, coming in 20th with a time of 17:54.58. Drew Cook (24th, 18:06.42) and Ethan Phillips (25th, 18:09.13) finished just inside the top 25, and Andrew Behm (32nd, 18:36.36) and Garrett French (42nd, 18:47.33) capped off team scoring.
Dylan Staatz (45th, 18:54.76) and Jacob Tollefson (74th, 19:53.78) were also on hand for the boys team, which saw plenty of success this season and must replace just one runner in 2014.
"The guys did really well. They did a better job of coming together as a pack," John Tollefson said. "They've kind of come together as a team. We lose Andrew Behm, but we've got our core coming back there as well."