THS

volleyball ousted in sub-state opener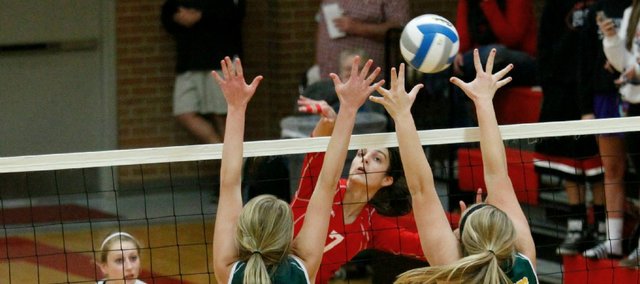 Entering Saturday's sub-state opener against top-seeded Basehor-Linwood, the Tonganoxie High volleyball team knew it faced an uphill battle. The fourth-seeded Chieftains went toe-to-toe with their Kaw Valley League rival, but couldn't quite seal the deal on their home floor.
THS stayed within arm's length for the whole first set and led for most of the second, but ultimately fell to the Bobcats in two, 25-21, 28-26.
"(Saturday) was one of the best days that we've had as a team," said coach Tiffany Parker, whose squad ended the season at 13-24. "Everybody kind of bought into their role and did it to the best of their ability."
Basehor-Linwood swept the Chieftains in their only regular-season meeting on Sept. 17, but Saturday's rematch was a power struggle from the very beginning. The Bobcats jumped out to a 5-2 lead in the first set, but never led by more than four points. THS hung tough and drew within one on several occasions, but BLHS scored four of the final five points to take a 1-0 lead.
It appeared a third set would be necessary when the Chieftains carved out a 17-9 lead in the second, but Basehor-Linwood scored seven of the next nine to get within three. THS scored the next two, but a 9-1 surge gave the Bobcats a 24-22 lead. The Chieftains responded with a 4-1 run, giving themselves a set-point opportunity at 26-25. BLHS capped off the comeback, though, scoring the next three points to end the match.
"Every now and then, the way volleyball is, the ball just doesn't quite roll your way," Parker said. "I can't say that our girls got nervous, I can't say that they were afraid."
The Bobcats reached the sub-state finals with the win, but fell to Piper in three sets.
Junior Jessica Minear, a late addition to the varsity squad, led the team in kills for the second straight match — this time with 10. She posted a team-best 15 in a loss Oct. 22 at Bonner Springs.
"She jumps out of the gym, and you can't teach that," Parker said of Minear. "She's going to be a great player for us next year, and she's been a good lift. She gives us another option on the outside."
Marissa Martin and Kaitlin Hall led the Chieftain back row with 19 and 14 digs, respectively.