Tonganoxie workshop offers practice in popular painting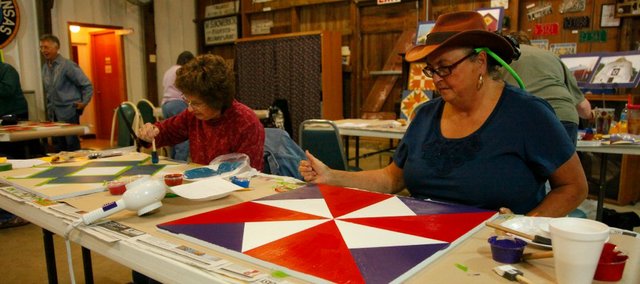 Barn quilts dot the Flint Hills, but local residents at a Saturday workshop are hoping the art makes its way to Leavenworth County.
Connie Larson, a member of the Kansas Flint Hills Quilt Trail Committee, came to Tonganoxie to offer the Barn Quilting 101 class at the Tonganoxie Community Historic Site. About 10 local women participated in the four-hour workshop.
Barn quilts are squares, generally made of wood, that are painted with quilt patterns.
Saturday, local residents used exterior house paint with 2-foot-by-2-foot plywood pieces as their canvasses. Larson said medium-density overlay signboard, a type of plywood, plus the exterior paint is the most ideal combination. But sometimes other paints might work better on other surfaces, such as metal paint on a farmstead's propane tank.
Larson brought grid paper for the women to sketch out their quilting plans if they wanted to construct a blueprint. From there, they used electrical tape to map out various patterns.
Peachez Joles used a patriotic pattern for her square, which she plans to display.
"I'm hoping my husband will hang it on the barn," she said. "That's what this is all about."
Larson, who lives in Olsburg, also is involved in the Ag Heritage Park in Wabaunsee County. The quilt blocks started as a decoration for the outside of the agricultural museum there. From there, the idea spread to other parts of the Flint Hills.
Eventually, the quilt trail was born. In the past year, the Flint Hills Quilt Trail has taken off in the swath of 22 counties that stretch from the Nebraska border down to the Wichita area.
Barn quilting started in the early 2000s, Larson said, and has exploded across the country.
There now are 6,000 registered quilts spread out in 45 states.
Some quilt trails have special requirements that the quilts must be a certain size, but Larson said it's far more informal for the Flint Hills trail.
"The main thing is to have fun," she said.
Flint Hill counties with registered quilts are Washington, Marshall, Nemaha, Clay, Riley, Pottawatomie, Jackson, Shawnee, Wabuansee, Morris, Dickinson, Chase, Butler, Greenwood and Coffey. Jewell County, which borders Nebraska in north central Kansas, and Franklin County, just south of Douglas County, also have barn quilts.
Larson, though, stressed that the quilts aren't just for barns. Some people display them in their homes or on businesses, such as a quilt shop in downtown Holton.
Local residents hoped the workshop might spark some barn quilt trails in Leavenworth County.
June Hagenbuch and Pam Jones worked on identical squares based on the Tonganoxie nine-patch pattern Carrie Hall designed years ago. She co-wrote the 1935 book "The Romance of the Patchwork Quilt in America" with Rose Kretsinger. Four T's can be found within the pattern.
One of the blocks will hang on the barn on the historic site campus, while the other will be raffled off at Tonganoxie Days as fundraiser for the historical society.
Janet Stuke, a historical society member who was painting a block Saturday, said she hopes the quilts catch on in Leavenworth County and give visitors another reason to check out the area.
Larson agreed.
"We're promoting the Flint Hills, but if it's around us, it can't hurt," Larson said.
She said folks visiting the quilt trails can provide a bump for rural tourism.
"When people visit the trails in the small towns, they say, 'Oh, there's an antique store. There's a café. We can have some lunch,'" Larson said.
For more information about barn quilts, visit the Flint Hills Quilt Trail site at ksflinthillsquilttrail.blogspot.