Game notes:
THS

football vs. Basehor-Linwood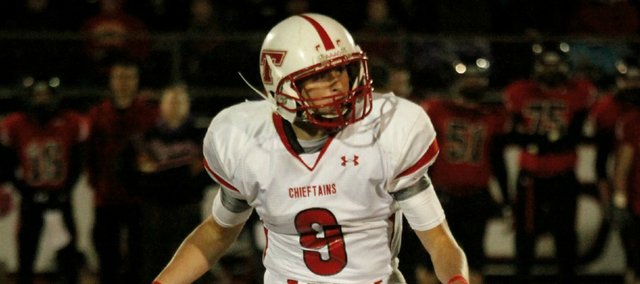 Last season, the Tonganoxie High football team shocked rival Basehor-Linwood on the road, defeating the Bobcats to clinch a district title. A win in Thursday's rematch at Beatty Field wouldn't carry the shock value as that of a year ago, but the end result would be just the same.
The Chieftains (7-1, 2-0 Class 4A District 2) will host BLHS (3-5, 1-1) for senior night 7 p.m. A victory would give THS its second straight district title and cap off the team's best regular season in seven years.
How they got here
Both teams won a week ago, but did so in very different fashions. Tonganoxie trailed 20-0 in the first half at Jeff West, but rallied for a 34-33 win. Basehor-Linwood staved off elimination with a 37-16 win at Perry-Lecompton, ultimately keeping all district teams in playoff contention.
Win and in
The Chieftains' playoff fate will be clearly decided if they defeat the Bobcats, but a loss would muddy things up. If THS loses and Jeff West (1-1 district) defeats Perry-Lecompton (0-2), it would force a three-way tie in the district standings and a 21-point tiebreaker would go into effect. If BLHS and PLHS win, Basehor-Linwood would be district champ and Tonganoxie would be the runner-up.
"That's been our motto all week: Win and we're in," THS coach Al Troyer said. "It's going to be a tough game because it's down to who's going to the playoffs and who's not."
All possible district outcomes and potential bi-district opponents are available here.
Early momentum
More often than not, THS has set the tone early in games this season. That wasn't the case last week, and the Chieftains were barely able to recover. Quarterback Tyler Ford was intercepted on the first play of the game, and Jeff West used the momentum to build a 20-point lead.
"The pick at the beginning of the game kind of set the tone for the first half, but once we got going, we scored on five drives in a row," Troyer said. "We'd like to get that type of momentum."
Troyer's squad is 5-0 when scoring first this year and 8-1 since the start of the 2012 season.
Stopping Sanders
Basehor-Linwood quarterback Tim Sanders has given the Bobcats a spark in the last two games. The senior signal-caller threw for 203 yards and four touchdowns two weeks ago in a loss to Jeff West, then accounted for three total scores — two rushing and one passing — in last week's win at PLHS.
Sanders has been one of the Kaw Valley League's top passers this season, completing 50 percent of his throws for 898 yards and 11 touchdowns. He's the Bobcats' second-leading rusher with 368 yards and three scores on 112 carries.
"You've got to be able to control the game," Troyer said. "Sanders does a great job of tucking and running, and he also likes to cut back on the inside zone. We've got to be ready for that, plus be ready for him to throw the ball down the field."
Jahron McPherson has paced the BLHS rushing attack, carrying the ball 93 times for 381 yards and five touchdowns. He was especially effective last week, running for a season-high 172 yards and a score.
Aerial assault
Ford needs just 106 passing yards to go over 1,000 for the second season in a row. Despite being picked off on the first play last week, he was at his best, going 9-of-16 for 164 yards and a season-high three touchdowns — all to different receivers. Ford has 13 touchdown passes this season, compared to just three interceptions.
Turnover battle
The THS defense forced three Jeff West turnovers a week ago, bringing its season takeaway total to 14. The Chieftains have 10 interceptions — at least one by seven different players — and four fumble recoveries. Basehor-Linwood has been turnover-prone at times this season, as Sanders has been intercepted five times and the Bobcats have lost six fumbles.
Senior sendoff
Thursday's game will be the final regular-season contest for Ford, Noe Puebla-Garcia, Cole Holloway, Shane Levy, Jordan Boudreaux, Wyatt Weeks, Maleak Gibson, Aaron Davis, Shawn Ridihalgh, Jeff Stauch, James Grizzle, Luke Carey, Luis Solorzano, Cody Snyder, Zeke Kissinger, Clayton Neas, Ben Johnson, Chase Sample and Eric Tate. Members of the 2014 senior class went just 2-16 in their first two seasons, but have gone 12-7 since.
"It's always a fine line between winning and losing," Troyer said. "If you look at a year ago, we could have easily been 2-7, but ended up 5-6. I think it's a belief, and now they believe and have the confidence going on. It would be shocking if they didn't come out and play hard."
Football and cross country seniors will be recognized in a pregame ceremony.