Around the world
Tonganoxie High grad and aviator plans symbolic flight to honor her namesake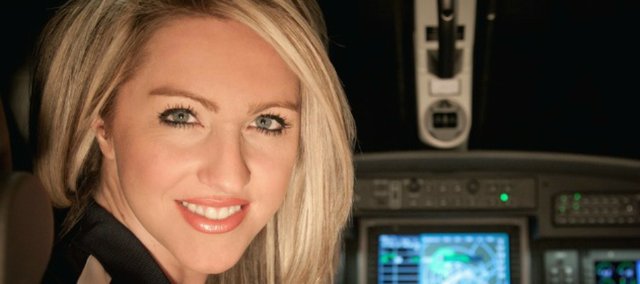 The countdown to an around-the-world adventure is on.
Visit flywithamelia.org and you can see the timer ticking by the second.
In fewer than 270 days, Amelia Rose Earhart will embark on a trip around the world to pay tribute to her namesake.
Earhart is a 2001 Tonganoxie High School graduate who, according to a genealogist's research several years ago, had common distant ancestry with Amelia Earhart, the famous Atchison aviator.
Earhart hired another genealogist to investigate her lineage further last month. But the findings showed that their family trees were not intertwined.
The news actually has strengthened Amelia Rose Earhart's passion to fly.
"They stand by the name," she said about her parents' decision to name her after the famous pilot. "We all agree it's the best gift they could have given me."
Earhart is an anchor and traffic reporter for KUSA Channel 9, an NBC affiliate in Denver. She also, like her namesake, is an aviator.
Earhart has been a pilot for several years. She recently recreated the original Amelia Earhart's transcontinental flight from Oakland, Calif., to Miami.
That's one step toward a much bigger plan.
She looks to complete the original Earhart's planned flight around the world that ended when she went missing somewhere over the South Pacific in 1937.
Next summer, Earhart and co-pilot Patrick Carter plan to recreate and symbolically complete the flight of Earhart's namesake. The 14-day, 14-stop trip is expected to cover 28,000 miles. Now 30, Earhart would be the youngest woman to fly around the world in a single-engine aircraft.
The pilots plan to fly a Pilatus PC-12NG plane.
"You don't have to be related to someone famous, you just have to have the will to want to do it and pull it off," Earhart said about her aspirations to fly around the world.
Her journey
Though Earhart graduated from high school in close proximity to her namesake, she actually grew up halfway across the country.
She moved to Kansas from California her sophomore year of high school. Earhart's stepfather happened to live in Kansas when he met Earhart's mother. They wanted wide open spaces for their horses and a "good place to go to school," Earhart said. So they moved Tonganoxie and Leavenworth County, which borders the first Earhart's Atchison County.
"It was kind of a funny coincidence," Earhart said.
She recalls attending Amelia Earhart festivals in Atchison and always wanting to learn more about her namesake.
She also is a fan of "Amelia," the 2009 film starring Hilary Swank as the first woman to fly solo across the Atlantic Ocean.
The younger Earhart said the movie was well-made.
"I will say that I watch it all the time for inspiration," Earhart said about the movie, which she has readily available on DVD in her living room. "I think Hilary Swank did a great job. I'm not a movie critic."
Earhart actually started college as an English major at Kansas University. She then moved to Colorado where her father lived and studied at Colorado State University in Fort Collins, and then the University of Colorado in Boulder.
While working at restaurant in Boulder, a customer learned of her name and that she was learning to fly. The connection led to an interview at a Denver radio station to do traffic reports.
"They offered me a job," Earhart said. "I got real lucky."
From there she worked at a television station in Los Angeles before returning to Colorado to work at Denver's NBC affiliate.
To the air
Earhart starting dreaming of flying at an early age.
"It was always something I wanted to pursue when I had the funds to do it," Earhart said. "My family never really had enough money to give me flight lessons. I had to work really hard to pull it off."
Now an established pilot and broadcast journalist, Earhart has started an organization to give girls opportunities to fly.
The Fly With Amelia Foundation provides flight scholarships to girls ages 16-18.
She hopes the scholarships can help inspire girls to get involved in aviation.
As for herself, Earhart is preparing to make her next mark in the profession.
"It will be an adventure for me," Earhart said of her planned trip around the world. "I want to lead by example and show other young people, no matter where you are, no matter where you come from, you can have your own adventure and make it worthwhile," she said.