Bulldog volleyball team hopes to utilize veteran lineup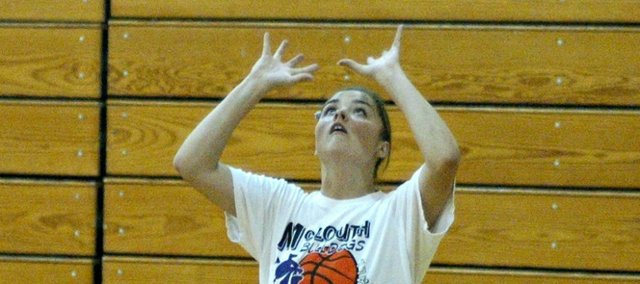 2013 volleyball schedule
Sept. 3 — vs. Oskaloosa/P-Ridge
Sept. 7 — McLouth Invitational
Sept. 10 — at Maur Hill
Sept. 12 — at ACCHS
Sept. 17 — vs. Jackson Heights/JCN
Sept. 24 — at Immaculata
Oct. 1 — at JCN
Oct. 5 — at Valley Falls
Oct. 8 — vs. Immac/Oskaloosa
Oct. 10 — at Atchison
Oct. 12 — at Riverside
Oct. 15 — at Maur Hill
Oct. 22 — at Pleasant Ridge
Oct. 26 — Sub-state (TBA)
McLouth — With a new head coach and largely inexperienced roster, wins were hard to come by for the McLouth High volleyball team in 2012. With an added year of experience under their belts, victories could come much more often this fall.
Highlighted by two seniors and four juniors — all of which saw significant varsity time a year ago — this year's Bulldog squad will try to build on last year's 3-31 campaign. They'll do so under second-year coach Kay Koch, who has already seen improvement in the weeks preceding the season.
"We have several sophomores that moved up to junior, so just with that extra year of game knowledge and maturity, I think it's huge for us," Koch said. "I'm really excited for the first games to get here so I can see how we're comparing to other teams."
Seniors Konner Patterson and Baylee Brown will look to lead this year's team after gaining varsity experience as juniors. Both will assume starting roles alongside current juniors Summer Cerny, Angela Dailey, Rebecca Boyd and McKenzie Campbell.
"This year, it's going to be realizing that last year was our 'getting it all together' year," Patterson said. "Now that we have that under our belts and we're returning so many players, if we can keep our attitudes up, it's going to be a really successful year."
Sophomore Dominique Tullis will also look to make an impact this season after moving up from last year's junior varsity squad.
Last year's team wasn't able to produce many victories, but players used the year to develop a sense of camaraderie, which they hope will lead to added success in 2013.
"I think we have it kind of figured out now," Brown said. "We didn't have very many seniors last year, so we all worked together and can work together even better this year."
The Bulldogs will open their season at 5 p.m. today with a home triangular against Oskaloosa and Pleasant Ridge. They'll return Saturday to their home gym for the McLouth Invitational — a new addition to this year's schedule — and will play two other home triangulars this season.
"It's wonderful. The last several years, it seems like we only had about two matches at home, so it's going to be nice to have a full day and then a couple matches on top of that," Koch said.