Chieftain soccer falls to Braves in
OT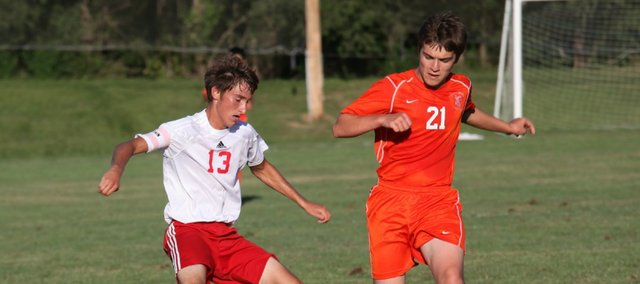 BSHS 4, THS 3 (OT)
First half scoring
Asher Huseman (TON), 34:43 (Evan Stilgenbauer assist)
Cody Pierce (BS), 18:37
Huseman (TON), 16:30 (Stilgenbauer assist)
Robert Glenn (BS), 15:51
Second half scoring
Stilgenbauer (TON), 27:23
Travis Dooley (BS), 23:24
Overtime scoring
Glenn (BS), 3:25
Tonganoxie High led on three separate occasions, but couldn't seal the deal in a 4-3, overtime loss to Bonner Springs Tuesday at Chieftain Park.
The Chieftains (0-2, 0-1 Kaw Valley League) broke open a 2-2 tie when Evan Stilgenbauer scored with 27:23 left in the second half, but the Braves forced the third tie of the game on a goal by Travis Dooley less than four minutes later. Neither team scored again before the end of regulation, so the game went into sudden-death overtime.
Bonner Springs' Robert Glenn ended the game when he headed a ball into the net with 3:25 left in the extra period. With the win, the Braves avenged an overtime loss to the Chieftains last season.
Following the game, THS coach Brian Kroll addressed his team's lack of communication, which he said played a role in Bonner Springs' late-game success.
"It's a product of inexperience," Kroll said. "We've got a very experienced captain in Stilgenbauer who is talking a lot, but for whatever reason, no one else is talking and I'm not sure they know what to say."
THS needed just more than five minutes to get on the scoreboard in the first half, as Asher Huseman scored on an assist from Stilgenbauer with 34:43 left in the period. A back-and-forth battle ensued for several minutes, but the Braves got even on a shot by Cody Pierce with 18:37 left.
Huseman scored again off another Stilgenbauer assist with 16:30 remaining, but Glenn made it 2-2 just 39 seconds later. Neither team scored again before the break.
"When we scored the first goal as fast as we did, I think we shut down a little bit," Kroll said. "You've got to play the whole 80 minutes. They played the whole 80 minutes, but they didn't play it like they're capable of playing."
THS will try for its first win Thursday when it welcomes league rival Basehor-Linwood to its home field. The junior varsity game will begin at 4:30 p.m. and the varsity contest will immediately follow. The Chieftains swept a pair of meetings with the Bobcats in 2012.
"What we need to learn from (Tuesday) is the fact that nothing is guaranteed," Kroll said. "They have to play their game and they have to play the way they're capable of playing at all time. They take time off, but they can't afford to."