McLouth football eyes continued success in 2013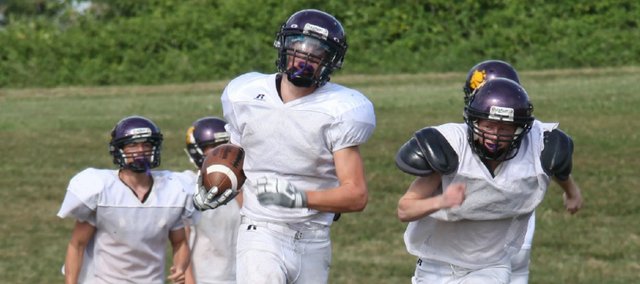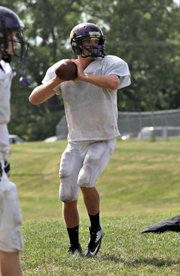 2013 football schedule
Sept. 6 — at Nemaha Valley
Sept. 13 — vs. Doniphan West (HC)
Sept. 21 — at Christ Prep (Piper)
Sept. 27 — vs. Olpe
Oct. 4 — at Pleasant Ridge
Oct. 11 — at Jefferson County North
Oct. 18 — vs. Oskaloosa
Oct. 25 — vs. Valley Falls
Nov. 1 — at Immaculata
McLouth — There will be some noticeable differences when McLouth High takes the football field this fall. But, despite making changes at several key positions, the 2013 Bulldogs have reason to believe they can enjoy similar success to that of last year's team.
MHS must replace several starters on both sides of the ball, but returns a handful of players critical to last year's run to a district title. Nick McAferty and Drew Cerny headline a seven-man senior class determined to prevent any drop-off after helping the Bulldogs end a seven-year playoff drought a year ago.
"We've got a number of seniors that are going to be key players," coach Chris Stewart said. "They're going to have to be. Nick and Drew are the two who had the most significant playing time on offense and defense, but I really believe these other guys can step up and do the job."
McAferty emerged as the team's leading receiver last year, hauling in a team-high 10 touchdown catches. He ended his junior campaign with seven catches for 125 yards and a score in a sectional playoff loss to Lyndon and will look to carry that momentum into his final season.
Meanwhile, Cerny will look to play a bigger role after combining for 12 touchdowns in 2012 — six rushing, five receiving and one punt return. He split carries at running back with 2013 grads Dakota Cop and T.J. Crowell, but will likely see an increased workload as a senior.
"I'm excited to have some more carries, but we also have a couple other guys who are ready so step up," Cerny said.
Fellow senior Colton Koch and sophomores Sergio Hernandez and Remington Courter are also in the mix at running back as the Bulldogs' season opener approaches. Koch will likely also see time opposite McAferty at receiver.
For the first time in four years, MHS will have a new starting quarterback. Junior Jack Courtney is faced with the task of replacing four-year starter Marc Walbridge, now a freshman at Fort Scott Community College. Courtney started for the Bulldogs' junior varsity squad the last two years and participated in offseason activities alongside Walbridge in previous seasons.
"He's been doing 7-on-7 with us all these years, and he's done a real good job with that," Stewart said of Courtney. "At the beginning of the season, it may not be as good as you want it to be, but I'm sure he's going to pick up where Marc left off. He's good enough to do it."
Courtney will have an offensive line that returns two starters in seniors Brady Sullivan and John Courtney. Fellow seniors Stephen Keaton and Dylan Dover and junior Nick Barber also figure to see starting time up front. Dover returns to the team for the first time since his freshman year.
The Bulldogs don't return as much experience defensively, but still have veterans sprinkled across the field. Junior Dylan Stauch returns as a starter on the defensive line, Sullivan will anchor the linebacking corps and Cerny and McAferty both started in the backfield. The MHS defense allowed just 9.3 points per game in the regular season in 2012.
MHS will open its 2013 schedule Friday at Nemaha Valley in Seneca. The Bulldogs handed the Raiders a 32-6 loss in last year's season opener.
"We know they're going to be mad because we beat them last year," McAferty said. "This year, we have to step it up from now until then. It has to be game mentality every single day."