Tonganoxie City Council agenda for tonight's meeting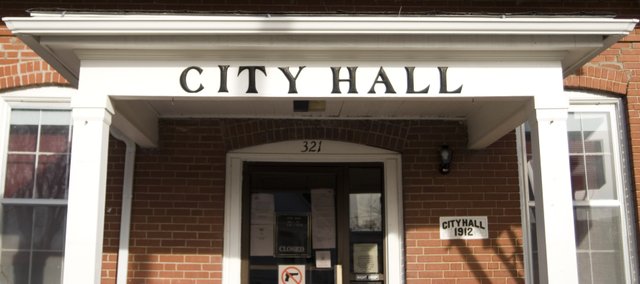 Tonganoxie City Council
Open Regular Rescheduled Meeting, 7 p.m.
I. Pledge of Allegiance
II. Consent Agenda
a) Approval of Minutes – Regular Meeting dated August 26, 2013
b) Consider Approval of Bills - Approve Pay Ordinance A-1714
c) Consider approval of payment to Westar Energy for Street lights and electric
expenses in the amount of $2,691.08.
Open Agenda
"Members of the public are welcome to use this time to comment about any matter
relating to City business. The comments that are discussed under Open Agenda may or
may not be acted upon by the Council during this meeting. Please wait to be recognized
by the Mayor, then state your name and address and all comments are to be directed
to the chair."
III. Old Business
a) Update on Chieftain Trail
b) Update on utilities extension
c) Update on Hwy 24-40 improvements
d) Selection of two voting delegates for the League of Kansas Municipalities
e) Agreement with Leavenworth County for expanding a culvert on Washington
IV. New Business
1
a) City Administrator Agenda
United Way of Leavenworth County Board positions – Nancy Bauder

Introduction of Bill Holladay, Building Inspector/Code Enforcement Officer

Potential sale of former police building

Discussion on city planning services

New City website demo
b) City Attorney Agenda
c) Mayor Agenda
Agenda Format
d) Council President Agenda
e) City Council Agenda
Retail Commercial Development Committee Report – Bill Peak
i. Approval of Ordinance No. 1350 - Amending Ordinance No. 1342
Retail Attraction and Retention Incentive Program, repealing
Section 2A sales tax rebate incentives
Infrastructure Committee Report – Jim Truesdell

Industrial Park Committee Report – Chris Donnelly

Update on fireproof storage in city hall – Bill Peak
V. Information & Communications (No Action Required)
Update on recurring nuisance violations
VI. Adjourn