Former Chieftains gear up for soccer season at
MCC
THS

has developed long tradition with Crusaders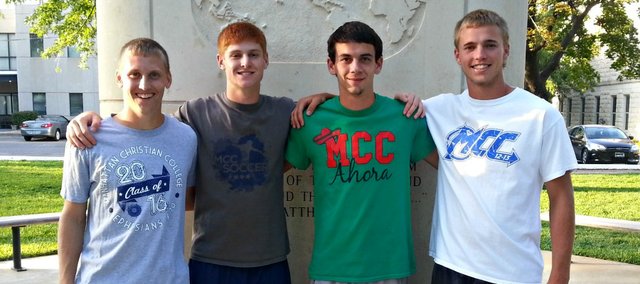 Crusader soccer schedule
Sept. 4 — vs. Tabor
Sept. 6 — vs. Faith Baptist
Sept. 10 — at Calvary
Sept. 13 — at Saint Mary
Sept. 18 — vs. Bethel
Sept. 21 — at St. Louis Christian
Sept. 24 — at Northland International
Sept. 26 — vs. Bethany
Sept. 28 — at Southwestern
Oct. 5 — vs. Dallas Christian
Oct. 8 — vs. Barclay
Oct. 11 — at Ozark Christian
Oct. 12 — at Central Christian
Oct. 16 — vs. Central Christian (KS)
Oct. 19 — vs. Grace
Oct. 24-26 — Conference tourney (Ankeny, Iowa)
Nov. 1-2 — Regionals (Manhattan)
Nov. 13-16 — Nationals (Kissimmee, Fla.)
Chieftains to sign with MCC
Ben Black (1997)
Will Black (1998)
Bryce Cooper (2001)
Kyle Rodell (2001)
Dustin Schultz (2002)
Luke Brown (2004)
Kirk Rodell (2005)
Matt Briggs (2012)
Matt Swaim (2012)
Keaton Truesdell (2013)
Matt Saathoff (2013)
John Lean (2013)
Manhattan — When the Tonganoxie High boys soccer team breaks its pre-game huddle, it does so with the word "family." For four former Chieftains, the family affair has carried on to the collegiate level.
After leading THS to its most successful two-year run in program history, Matt Briggs, Keaton Truesdell, John Lean and Matt Saathoff have moved on to national powerhouse Manhattan Christian College. Briggs, a 2012 Chieftain grad, enters his sophomore season with the Crusaders, while Truesdell, Lean and Saathoff prepare for their freshman season in blue and white.
"Last year, it was a whole different scheme, so this year, just to bring some of them along with me for this awesome journey is cool," Briggs said. "It makes you happy because Tongie soccer has had a lot of success, but then to see them push through and find success at the next level, it's been awesome."
Briggs, a midfielder, earned a starting spot midway through the 2012 season and never relinquished the role. He helped MCC reach its 15th consecutive NCCAA national tournament, where the team finished third. As a sophomore, he'll try to help the Crusaders return to the national title game for the first time since 2008.
Additionally, he'll help pave the way for his high school teammates as they make the transition to college soccer.
"It's completely different," Truesdell said. "There's no down time in practice and everything is just way faster. You don't have any time to mess around."
Truesdell, a Class 4-1A All-State goalkeeper in 2012, is currently battling Lawrence High product Julio Salazar for the starting job in his first season. The two split time in the team's alumni game on Friday.
Truesdell wasn't the only All-Stater to make the journey to Manhattan, as Saathoff also earned first-team honors after scoring a school record 31 goals as a senior. He's currently in the mix at midfielder and forward, but has been battling a foot injury in the first weeks of practice. However, he said he doesn't expect to miss any game time.
Lean, who originally planned to try out for the MCC basketball team, was a late addition to the soccer program in June. He is currently practicing at wing and could see time in a reserve role this season.
"I'd like to work my way on up to see if I could potentially get a starting role," Lean said. "I'll just keep on working hard and getting a feel for the game. It's a lot different than high school."
Past success
The freshman trio join Briggs at a program highlighted by three national titles and six championship game appearances, but they've already seen some success of their own. Over the last two seasons, THS went a combined 27-11-2, including two regional titles, a Kaw Valley League title and an appearance in the 2012 Class 4-1A state title game.
After helping the Chieftain program reach new heights, players hope they can use that momentum as a springboard into their first college season.
"Everybody comes from different high schools and backgrounds, and they have their ways that they led their teams," Saathoff said. "Getting different angles and aspects of everyone's leadership will help with team chemistry."
Long-running tradition
When Lean signed with MCC, he became the 12th Tonganoxie product to join the Crusader program and the fifth in the last two years. The pipeline opened when 1997 grad Ben Black took his talents to Manhattan, and the tradition has continued for the better part of two decades.
"Tonganoxie has a long history. We've always had an interest in them," MCC coach Rick Wright said. "Those are blue-collar boys. You can count on them to be a little bit harder-working."
In addition to the 12 former players, former THS coach Harold Pittman played for the Crusaders. Dustin Schultz (2002 THS grad) and Kirk Rodell (2005) were members of the 2005 national championship team. Kirk's older brother, Kyle Rodell (2001) was a three-time All-American from 2002 to 2004, and Schultz followed suit in 2006.
Close to home
MCC will open its season at 7:30 p.m. today against Tabor College at Manhattan's Frank Anneberg Park. Later this month, THS fans will have a chance to see the four former Chieftains in action not far from their hometown, as the Crusaders will travel Sept. 13 to the University of Saint Mary in Leavenworth.
"We're so close, really, that most of our games are centrally located, so that's a great thing for them," Wright said.