Chieftain volleyball swept by Paola at home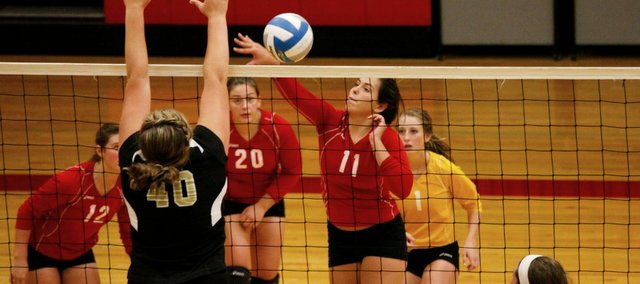 When the Tonganoxie High volleyball team opened its 2013 season Tuesday at Turner, it got its first taste of victory. When it hosted Paola two days later, it got its first taste of defeat.
The Chieftains couldn't keep up with the visiting Panthers Thursday, falling in straight sets, 25-14, 25-14, 25-14.
"We knew we were going to have to outlast and out-rally people," coach Tiffany Parker said. "This is kind of the team we knew we'd need to be. We were put to that test, but we just did not have the same size (as Paola)."
Paola grabbed the early momentum by winning the first set, then raced out to a 14-4 lead in the second. THS (1-1) battled for the remainder of the set, but failed to cut into the Panthers' lead.
A back-and-forth battle ensued in the third set, as Paola clung to an 8-7 lead early on, but the Panthers took control with a 9-2 run and the Chieftains couldn't find an answer.
Senior Morgan Oroke led THS in kills for the second time in as many matches — this time with seven. Fellow senior Marissa Martin recorded a team-high 19 digs while Oroke added nine and sophomore Lauren Jackson seven. Meanwhile, freshman Taylor Lee led the team with 1.5 blocks.
"I'm excited for what we did accomplish tonight," Parker said. "I had kids step outside their box and play harder than I've seen them play in preseason practice. I don't care what the scoreboard says; I'm proud of what I saw them come out and do tonight."
The Chieftains will continue non-league action next week with a Monday trip to Atchison and a Thursday trip to Baldwin. They defeated both teams in regular-season meetings in 2012.
"We know we're inexperienced, so any chance we have to get in the gym is a benefit to us," Parker said. "Basically, we'll just keep going hard in practice and keep developing."